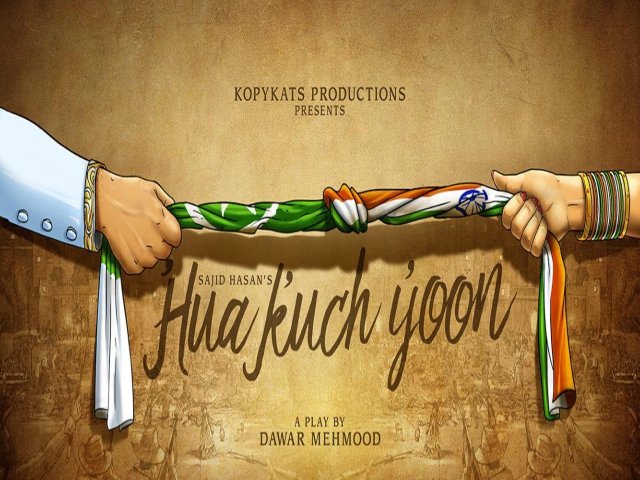 ---
KARACHI: After the successful journey in Lahore, Multan, Peshawar and Faisalabad, a Partition play Hua Kuch Youn will take the stage in Karachi at the Karachi Arts Council from February 15 to March 15 2018, stated a press release.

After successfully producing plays such as Siachen, Bananistan, Anwar Maqsood Ka Dharna, Pawney 14 August, its sequel Sawa 14 August, Aangan Terah and Half Plate, KopyKats Productions will be showcasing their next theatre project, which is Sajid Hassan's soulful Hua Kuch Youn.




Written by Sajid Hassan, the play sheds light on a love story. "We wanted to touch on a meaningful subject that would capture the emotions of the audience. It's a love story over the past years."




In his play, Hasan has successfully portrayed a journey of eight decades into a theatre play with his pen. Executed by director Dawar Mehmood, the theatre performance uses about 10 set changes making it into a live film-like experience.

For Mehmood, who loves to take up challenges, this play was nothing short of a technical havoc if gone wrong. However, he has perfected the script making the play magical for his viewers. With his claim to fame, flagship product Aangan Terha, Mehmood states that Hua Kuch Youn falls in the same genre.




Hua Kuch Youn is a story about two kids Quratul Ain and Raja Mahmood who are the surviving victims of Jallianwala Bagh and their tragic love story. The play chronicles the events of Partition and history, merging the audience in a wonderful journey of nostalgia that is bound to get tears in every eye.

Have something to add to the story? Share in the comments below.
COMMENTS
Comments are moderated and generally will be posted if they are on-topic and not abusive.
For more information, please see our Comments FAQ