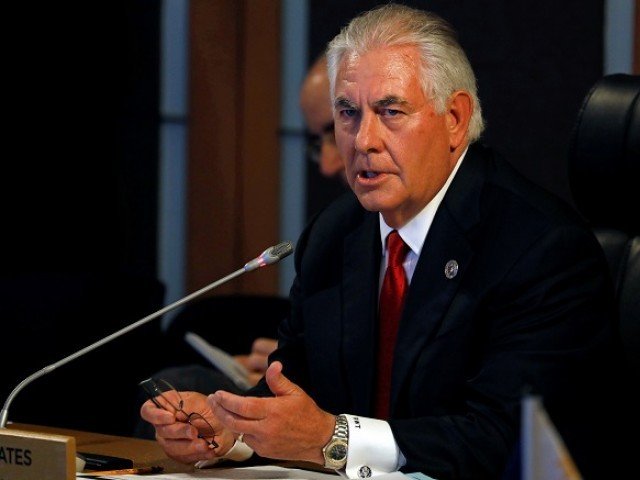 ---
WASHINGTON: US Secretary of State Rex Tillerson faces 'difficult' talks next week with NATO ally Turkey on Syria and human rights, his delegation said Friday before a regional tour.

Late last month, Ankara began a cross-border offensive in northwestern Syria against what it calls a 'terrorist' Kurdish militia. Washington supports and arms the fighters, who back local militias against the Islamic State group.

Turkey to open 'embassy to Palestine in Jerusalem': Erdogan

The Turkish operation further raised tensions between the two countries, whose relations were already complicated.

"We are urging them to show restraint in their operations in Afrin, and to show restraint further along the line across the border in northern Syria," a senior US State Department official told reporters ahead of Tillerson's tour that begins Sunday and will also take him to Cairo, Kuwait City, Amman and Beirut.

"You start with asking for restraint and look for ways that you can help bring it to an end as quickly as possible," the official said, speaking on condition of anonymity.

President Recep Tayyip Erdogan has called on the US to pull its troops back from Syria's Manbij, which is east of Afrin.

"Obviously we need to work with the Turks to figure out more about what their long-term intentions are," and to try to find a way " to address their legitimate security concerns while, at the same time, minimizing civilian casualties and above all else keeping everything focused on the defeat-Islamic State fight, which is not over," the official said.

It will be "a difficult conversation," the official continued, referring to the "very hot" Turkish rhetoric on the subject.

Tillerson's visit is also expected to touch on other sensitive topics.
These include human rights and arrests that the US called 'arbitrary' following a state of emergency declared after an attempted coup in 2016.

Turkey last year detained local employees of American diplomatic missions in the country, and arrested Taner Kilic, the president of Amnesty International in Turkey.

US slaps sanctions on six militants after cutting aid to Pakistan

"There's no pulling punches on that," a second senior State Department official said.

"We've been very public in our call to the Turks to let these folks go, and we've been very firm in our private conversations with them as well".

He conceded: "The Turks are angry and this is a difficult time to do business".

But Washington believes the two countries share fundamental underlying interests including Syria's stability, the defeat of Islamic State, and countering the Kurdistan Workers' Party (PKK) which both Ankara and the West consider terrorists.