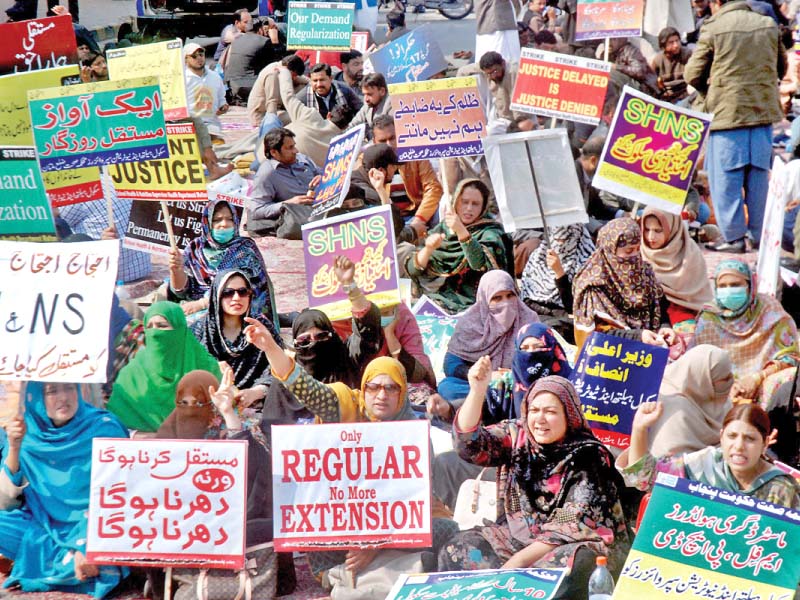 ---
LAHORE: More than 1,500 nutritionists of Basic Health Units (BHU) established across Punjab have threatened to boycott the upcoming polio campaign, especially in far-flung areas, if the government failed to provide a permanent job status to them.

Agitated employees staged a sit-in outside the Punjab Assembly Building on Mall Road and threatened to boycott the polio campaign which was scheduled to commence on February 12. While speaking to The Express Tribune, Punjab Nutritionists Association (PNA) President Chaudhry Jamil said "We were hired by the health department of Punjab government in 2007 to provide health education and screening in government schools. In addition, we have been working during polio and dengue campaigns since the beginning."

He complained that the government had decided not to give them a permanent job status, which was unacceptable at all costs."  Jamil said that they had been protesting in the cold weather for the last two days, but neither government officials nor any politician contacted them.

The representation of females is more than male employees in the sit-in and they are fighting the cold weather even at night."

"Our work is to provide health education at the doorstep of the people in Punjab. Now the government is trying to snatch the basic livelihood of our children," he pointed out.

Punjab Nutritionists Association General Secretary Hafiz Munir alleged that Health Minister Khwaja Imran Nazir was not capable of holding his post. He said the health minister was not interested in providing health facilities to the common people of Punjab.

"We have warned them. If they do not change our employee status from contractual to permanent, we will not end the sit-in," he warned.

"Law enforcement agencies are threatening us as according to them, we are creating hurdles in the smooth flow of traffic," Munir said.

Similarly, Sohail Baluch, a nutritionist from Multan, told The Express Tribune that they had been performing duties since 2007, but were now being terminated from their jobs. "How can we get another job if they sack us> Should we commit suicide?" he asked.

Meanwhile, data shared by former Young Doctors Association office bearer Dr Aftab Ashraf revealed that Lahore had remained in the grip of protests by health workers in 2017. It transpired that 300 different demonstrations took place during one year and in most cases, the protests were against privatisation of public medical institutes.

Published in The Express Tribune, February 10th, 2018.
COMMENTS
Comments are moderated and generally will be posted if they are on-topic and not abusive.
For more information, please see our Comments FAQ