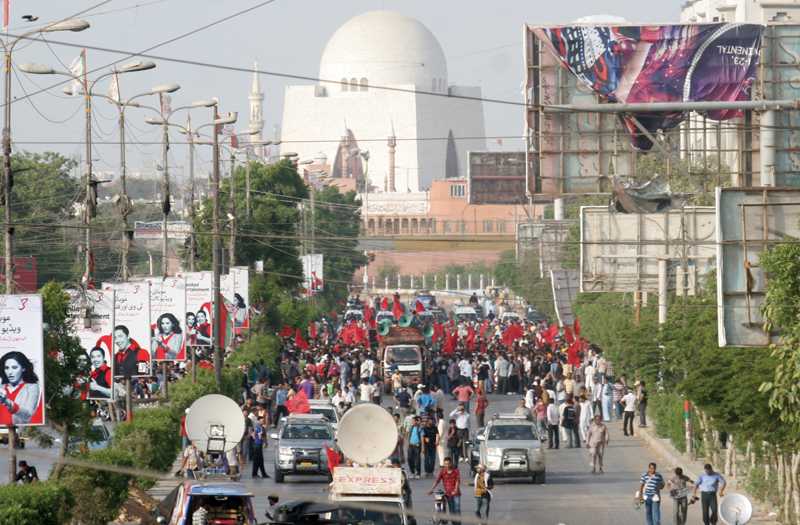 ---
KARACHI: Chief Minister Murad Ali Shah has approved the design of an underground bus stop at Numaish as part of the Green Line Bus Rapid Transit (BRT) project.

The underground bus stop was approved on Thursday at a meeting held at CM House. Green Line BRT Project Director and Principal Secretary to the Governor Sualeh Farooqui informed the meeting that Numaish would be a major bus stop of Green Line buses and, therefore, a mezzanine floor was included in the underpass's design, which would be developed into a retail area.

Farooqui added that the retail area was envisaged to add non-fare revenue as a sustaining tool for the BRT.

The CM, however, said that the retail area could be developed later under public-private partnership mode after the BRT project started running. "The time of project's completion and starting of buses are most important, for which the people of Karachi are waiting," he said, approving the underground station at Numaish.

Strike halts work on Green Line BRT project

The CM directed Farooqui to invite tenders on February 15 so that work could start in a timely manner. "I am interested in starting the project in April," Murad said. He directed the project director to notify the date of completion of the Green Line infrastructure so that the Sindh Mass Transit and Transport Authority could issue the notice of readiness accordingly.

Transport Minister Syed Nasir Hussain Shah informed the meeting that preparations for the procurement of buses for Green Line and Orange Line projects had started.

A participant raised the issue of establishment of a bus depot in Surjani Town. The CM directed Law Secretary Iftikhar Shahlwani to make necessary amendments in the land document so that 3.5 acres of land could be developed as a bus depot. "This must be done within 15 days," Murad directed.

Green Line BRTS faces delay due to design change

The CM also approved the design of the Green Line BRT from Numaish to Tower.

The meeting was also attended by Local Government Minister Jam Khan Shoro, Chief Secretary Rizwan Memon, Planning and Development Board Chairperson Mohammad Waseem, Principal Secretary to CM Sohail Rajput, Transport Secretary Saeed Awan and a director of the Green Line project, Zubair Channa.