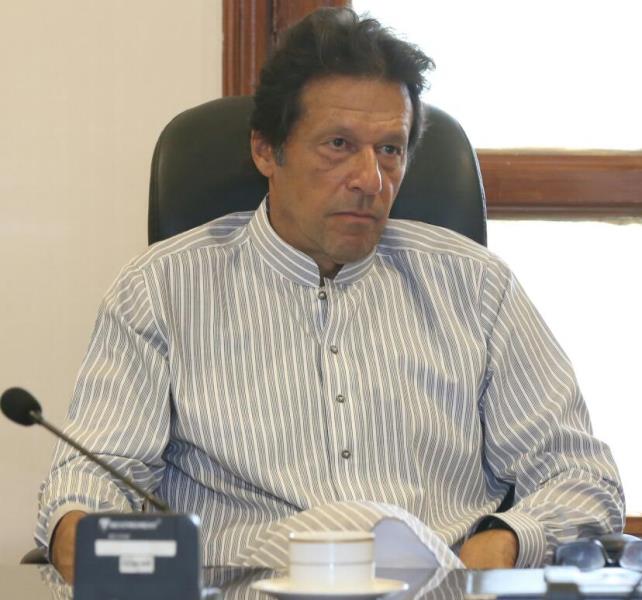 ---
Imran Khan, the Oxford-educated former cricketer, is roaring along the Pakistani campaign trail in his armoured car. Horns honk. Crowds yell. Superfans on motorbikes race after him. Thousands line the road with his party flags. Hysteria grips the small Punjabi city of Mandi Bahauddin. Khan, however, is miles away.

"British politics," he intones. "It's such a boring politics. If I had to be in British politics, after two months I would just … commit suicide," he says during an interview with Sunday Times.

Dressed in an immaculate white flowing shalwar kameez, nodding in satisfaction at the human tide, Khan is moments from giving a rally. A top turnout. A 3½ hour drive from Islamabad with knackered donkeys and dishevelled villagers clipping past the window. All the while, he has been talking about everything from God to his two sons from his former marriage to the British heiress Jemima Goldsmith, and his lost halcyon days at Keble College, Oxford. How things have changed. "Pakistani politics," he says, smiling, "now this is such exciting politics."

Khan, like Trump, emerged from the moneyed elite, riding high on a personality cult, purporting to be the voice of every forgotten man, railing against effete liberals and the corruption and nepotism of the political class.

Khan attacks 'liberals' who support Nato's war on the Taliban as "thirsty for blood". "They have absolutely no idea. They sit in the drawing room. They read the English-language newspapers, which bear very little resemblance to what is real Pakistan. I promise you, they would be lost in our villages."

Imran Khan commends K-P police despite top court drubbing

Who is to blame for the state in which Pakistan finds itself? Khan points the finger at America. "They pushed us into a hysteria of blood-letting." He blames the US for the rise of the Pakistani Taliban and allies of the Afghan Taliban.

He says he is against all terrorism. "My tradition is of a more Sufi style of Islam," he explains, a mystical path very different from the Taliban's literalism.

Khan seethes at both Barack Obama and Donald Trump, who is presiding over "absolute civilisational decay". He may feel at liberty to lash out at the US, but he is terse to the point of monosyllabic on the China of Xi Jinping, who is pouring $62 billion into Pakistani infrastructure.

Even Khan's closest aides admit the boss is not great in this department. "He's not a strategy guy, let's put it that way," said Asad Umar, vice-president of Khan's party. "He has never been in an institution, and doesn't know how to work in an institutional setting."

Imran demands inquiry into fake encounters

"What is it that the military is doing wrong that I have backed?" he snapped firmly. Is the military corrupt? He replies,"The military depends on the head of the military. He is, in my opinion, the best head of the military we have ever had. He's a really good guy."

Worrying his prayer beads again, Khan is getting in the zone for his speech. The armoured car crawls through a forest of reaching hands and phones. "This is not normal, what's happening," he says, surveying the throng contentedly. "It's one of those moments that only happens once or twice a century, when the people mobilise. Staying in England would have been easy for me," he sighs. "I could just have done some cricket-writing and made a decent living. But life would have been over."

Khan's residence is fit for a Bond villain outside Islamabad, where the walls are covered with ceremonial swords, cricket memorabilia and photos of him as a young man. Earlier this week, he was in a hotel lobby in Karachi, being mobbed while trying to eat a piece of sushi. "Well, don't forget," he said when asked how it felt to live like that, "I'm probably the most known Pakistani ever in its history."

Imran says will take up extrajudicial killing, landmine issues with Gen Qamar

Once upon a time, Khan was a nobody. There were no fans to greet the 17-year-old who arrived alone into the English gloom in 1971. "That was the toughest winter of my life," he recalls. His one-way ticket from Lahore was to play for Worcestershire County Cricket Club on a £4-a-month contract and, as he had promised his father, finish his education at the Royal Grammar School in Worcester.

Other RGS boys remember a quiet loner wrapped in scarves with no girlfriends. "I grew up thinking I was ugly," Khan says. "My older sister always told me, and I accepted it in the end." He insists he was never complimented on his looks before his success. "Success can make even the ugliest man good-looking."

How many times have you been in love? "Oh," he says, touching his chin, "I guess, tw … actually I'd rather not play that ball."

This is the Khan that his old friends recognise: emotional, questing, believing. The sensitive and literary socialite Nusrat Jamil is one of his oldest friends from Lahore. The Khan she knows, she says, loves trees, animals, loved his "very religious" mother and was left in pieces by watching her die of cancer. "There's a huge question mark and lack of clarity about him," Jamil says. "Personally, I think there's still a lot of confusion."

But how can Khan the anti-western populist and Khan the playboy be the same man? "He's not liberal, intellectually," she says. "He may have had girlfriends, but that doesn't make him liberal. He's not a person who thinks in terms of a secular society, who thinks in terms of, you know, secularism and democracy. He thinks in terms of a Muslim way of living, a Muslim way of life, and that's how he would like to live his life. That's how he would like to run the country.
COMMENTS (9)
Comments are moderated and generally will be posted if they are on-topic and not abusive.
For more information, please see our Comments FAQ