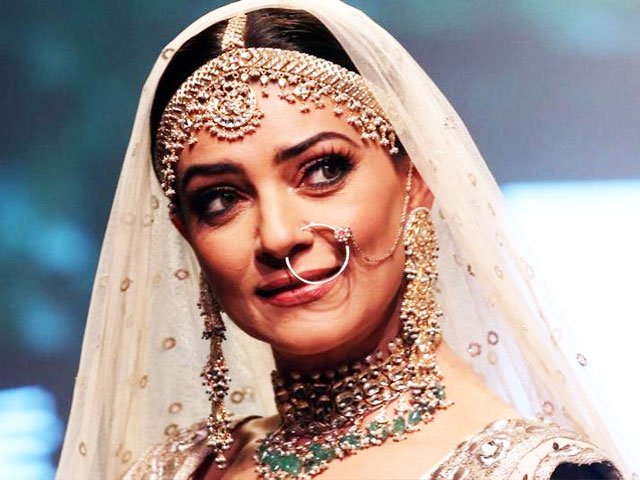 ---
Former beauty queen Sushmita Sen strutted the runway when she regally floated down the ramp on Umrao Jaan hit song In Aankhon Ki Masti wearing a lehenga, glittering choli and diaphanous dual dupattas by brand Kotwara by Meera and Muzaffar Ali at Lakme Fashion Week Summer/Resort 2018.

The designers showcased a collection titled "Samanzar - A Garden of Flowers" for their Kotwara label.




Sama Ali, daughter of Meera and Muzaffar Ali presented Chikankari in a unique manner, which was quite incomparable. The addition of zardozi, aari and muqquaish to the delicate Chikankari embroidery, raised the design sensibilities to a more contemporary level.

The exotic regal occasion wear was royal attire, dappled with a generous dose of pearls and sequins. The flowing capes and shrugs that adorned the classic shararas and saris were visions of beauty as they floated down the ramp on glamorous models.




Sushmita looked no less than a bride with million dollar smile when she showed her elegance on the runway while taking the walk.

"Magical was the feeling while walking the runway. I always love walking Athe runway in Mumbai. I feel like I am home with my family and people are hooting for me. Looking royal is very easy with House of Kotwara," she said.




The "Samanzar - A Garden of Flowers" collection created by Sama Ali for the Kotwara label by Meera and Muzaffar Ali was a luxurious line of traditional formal wear, in an amazing collage of textiles and crafts that had timeless appeal.

The look created by Lakme makeup expert Donald Simrock was "a little something" as he called it. The look featured an extensive line with a chalk of black and a fair amount of mascara on the eyes.