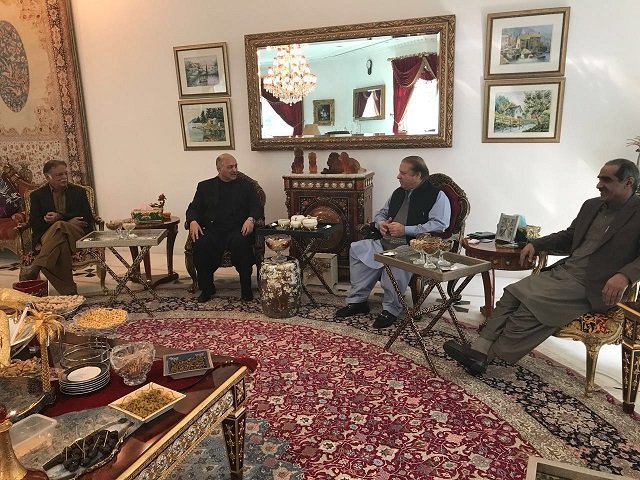 ---
LAHORE: Senator Mushahid Hussain Syed on Sunday formally announced re-joining the Pakistan Muslim League-Nawaz.

According to PML-N sources, the former PML-Q secretary-general was invited to re-join the Pakistan Muslim League-Nawaz and was called for a meeting with party president Nawaz Sharif at Jati Umrah on Sunday.

Mushahid during the meeting accepted Sharif's invitation to formally join the PML-N.

Later, talking to The Express Tribune, the senator said the PML-N president said that he would be an asset to the PML-N.

Mushahid said, "At this critical juncture, Mian Sahib deserves full support in the struggle to preserve and strengthen democracy, particularly sanctity of the ballot and supremacy of parliament."
He lavished praise on the former prime minister for contributing towards national defence and security. "Mian sahib was instrumental in conducting nuclear tests in 1998, after overcoming all foreign pressures."

Javed Hashmi likely to re-join PML-N after meeting with Nawaz

In addition, Operation Zarb-e-Azb and the National Action Plan -- the first counter terrorism strategy in the country's history -- were launched in his tenure as prime minister, he added.

Mushahid said the former prime minister had played a pivotal role in promoting Pakistan's development via CPEC.

The meeting was also attended by Senator Pervaiz Rashid, Federal Minister for Railways Khawaja Saad Rafique and Maryam Nawaz.
Later, Mushahid also called on Punjab Chief Minister Shehbaz Sharif, at his residence, who also warmly welcomed him to the party.
Mushahid is expected to play a proactive role in the PML-N's political and electoral campaign in the coming months.




COMMENTS (1)
Comments are moderated and generally will be posted if they are on-topic and not abusive.
For more information, please see our Comments FAQ