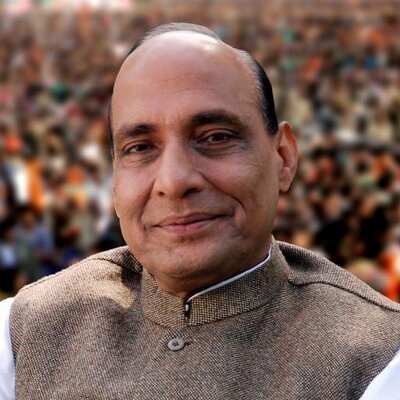 ---
A top Indian minister has said he has directed Indian forces to fire countless bullets in retaliation of one bullet that comes from Pakistan's side, NDTV reported.

"I have given standing orders to our forces to shoot limitless bullets to retaliate a single fire on our territory by the Pakistani forces," Union Home Minister Rajnath Singh said at an election rally in Barjala, Agartala on Saturday.

Blaming Pakistan for the situation in occupied Kashmir, the Bharatiya Janata Party (BJP) leader said India does "not want to attack Pakistan first".

He said,, "We want to live with peace and harmony with our all neighbours," adding, "But most unfortunately, Pakistan is trying to tear down Jammu and Kashmir and continue attacks on our forces and Indian territory."

Kashmir and Pakistan are inseparable: AJK president

Meanwhile, the world will observed Kashmir Solidarity Day on February 5 (tomorrow) to express solidarity with the Kashmiri people who are struggling for their right to self-determination under United Nations (UN) resolutions.

A holiday has been announced in Pakistan, including in Azad Jammu and Kashmir (AJK). A one-minute silence will be observed at 10am to honour the Kashmiri martyrs.

Special cultural programmes and festivals will also be held to promote Kashmiri culture and tradition while photographic exhibitions will be arranged depicting the atrocities committed by Indian occupation forces against the Kashmiris.

At the Eiffel Tower in Paris, Pakistani and Sikh communities will hold a demonstration. Former AJK prime minister Sultan Mehmood Chaudhry will be the chief guest on the occasion.

Last month, at least three civilians including two women were injured after the Indian security forces resorted to unprovoked firing across the Line of Control (LoC), Pakistan's military said.

Pakistan has repeatedly condemned increasing ceasefire violations by Indian forces due to which, several civilians have lost their lives.

Islamabad has been urging New Delhi to respect the 2003 ceasefire arrangement, investigate the incidents of ceasefire violations, instruct Indian forces to respect the ceasefire in letter and spirit and maintain peace on the LoC. However, the violation of the truce has still been continuing.
COMMENTS (5)
Comments are moderated and generally will be posted if they are on-topic and not abusive.
For more information, please see our Comments FAQ