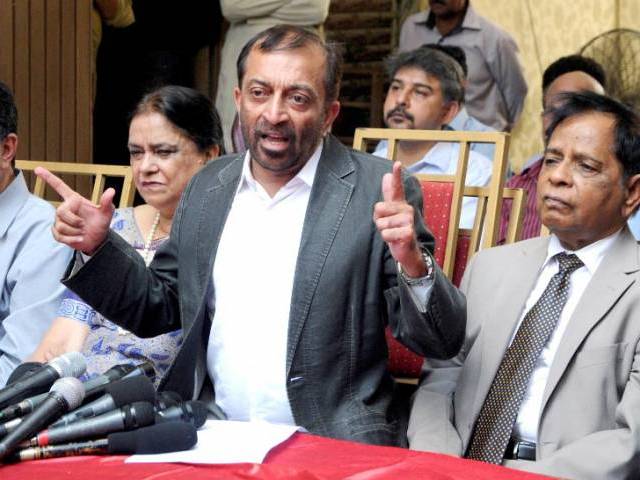 ---
KARACHI: The Muttahida Qaumi Movement-Pakistan (MQM-P) is reportedly experiencing differences among its ranks as key leaders express reservations over the issue of tickets for the upcoming Senate elections.

Source told Roznama Express that the fissures emerged after the Karachi-based party's chief, Dr Farooq Sattar, revealed his intention to give the tickets to senior leaders Amir Khan and Faisal Sabzwari.

The decision did not bode well for the party as other senior leaders, who could not secure tickets, expressed their displeasure over it and ended up dividing the party in two main groups over the issue.

They believe the senior party leaders should have been consulted on the issue before coming to a decision.

MQM-Pakistan struggles to restore Rasheed Godil's political activities

The Senate election, scheduled for March 3, is of an utmost importance to the party as some MQM-P leaders believe that the party's success is not guaranteed in the forthcoming general elections.

On Friday, the Election Commission of Pakistan (ECP) issued the schedule for Senate elections. According to which, nomination papers can be submitted from February 4 to 6 and their inspection will be completed by February 9, the final list of the contestants will be issued on February 15.

According to sources, the two groups within the MQM-P were openly confronting each other on the issue.

Kunwar Naveed Jamil, Khawja Izharul Hasan, Aminul Haque and Kamran Tisori were among those expressing serious reservations over the party chief's decision. They believe that the tickets should have been given to Aminul Haque and Kunwar Naveed.

ECP issues Senate election schedule

Dr Sattar had also expressed concerns over the groupings openly in private gatherings, sources added. He also believed that a Senate ticket to Amir Khan will further intensify the differences.

Sattar reportedly assured the senior leaders that those who could not be given Senate tickets will be given the tickets for national and provincial assemblies. However, the disgruntled leaders questioned the success of the party in the general elections, citing the dis-satisfactory results of the two recently held by-elections.

Meanwhile, Tisori has said in party meetings that his one-year-long performance surpassed the work of many in the last 30 years as he worked day and night, succeeding in opening the party offices in unchartered territories specially his efforts to get the Hyderabad zonal office opened. He, therefore, presented himself as another potential candidate for the Senate ticket.

The party will contest for 12 Senate seats from Sindh. Four of its senators were retiring in March and it will be interesting to see as to how many seats MQM-P manages to win as seven of its MPAs have left to join Mustafa Kamal's Pak Sarzameen Party (PSP) while five were currently abroad for 'personal' reasons.
COMMENTS
Comments are moderated and generally will be posted if they are on-topic and not abusive.
For more information, please see our Comments FAQ