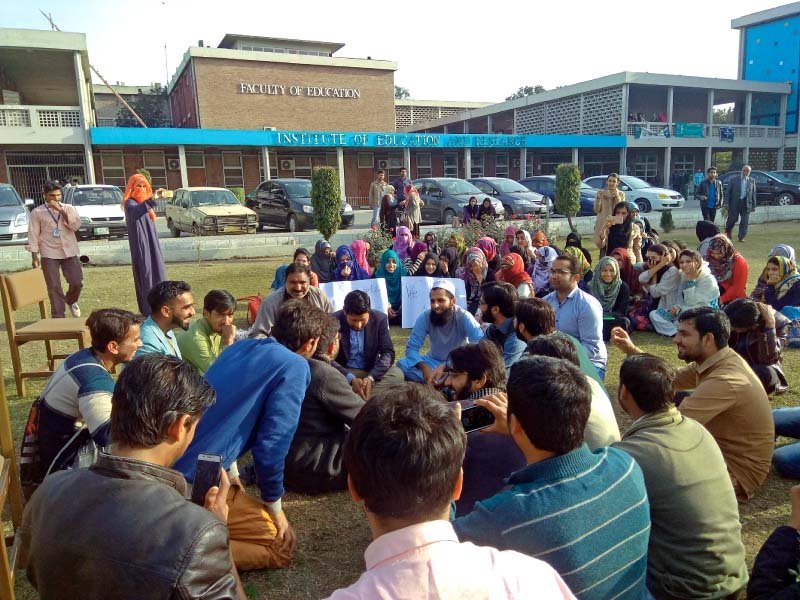 ---
LAHORE: Students of Punjab University Institute of Education and Research (IER) staged a protest for not being declared eligible for the jobs announced by the Punjab School Education Department (SED) despite having a relevant degree.

The students protested outside the IER department and the vice chancellor's office on Thursday. The protesters were carrying placards and banners against the university and the Punjab government. The protesters also shouted slogans in favour of their demands.

The students protested after jobs in the SED were announced and several students of the department applied for the jobs. The SED, however, did not accept the students' applications, objecting that they were not qualified as per the set criteria – having a masters' degree.

Hamza Muzaffar, a graduate of the department, told The Express Tribune that all the programmes being offered by the IER department were professional degrees, which were geared towards teaching. However, he said, now their job applications were rejected.

He said, "The SED, the hiring department, is not acknowledging our degrees despite the fact that the Higher Education Commission (HEC) issued equivalence certificates."

He said nine degree programmes were being run by the IER department. Their BEd programme, he maintained was of four years which the department said was equivalent to MA programme.

Muzaffar added, "Other institutes offer a BEd degree for one and a half to two years, but the same is being offered here as a BS programme for four years. We have been told that because of the length of the programme, our degree would be equivalent to masters." He pointed out, "After four years, we received a professional degree similar to that of one and a half to two years and this is the reason the SED is not accepting their applications."

Another student, Muhammad Rizwan, said both the SED and the IER were playing with their future. He said, "If we have not been deemed ineligible in the current hiring made by the SED, we would have not known about this."

He said that he had qualified for the job and received 75% marks in the NTS test. He lamented the SED then sent his job application back, telling him that he was not eligible for the job. "The HEC has also acknowledged our degrees and we have equivalence certificates," Rizwan added.

He said the students would hold a protest outside the office of the SED if their demands were not met.

Published in The Express Tribune, February 2nd, 2018.
COMMENTS
Comments are moderated and generally will be posted if they are on-topic and not abusive.
For more information, please see our Comments FAQ