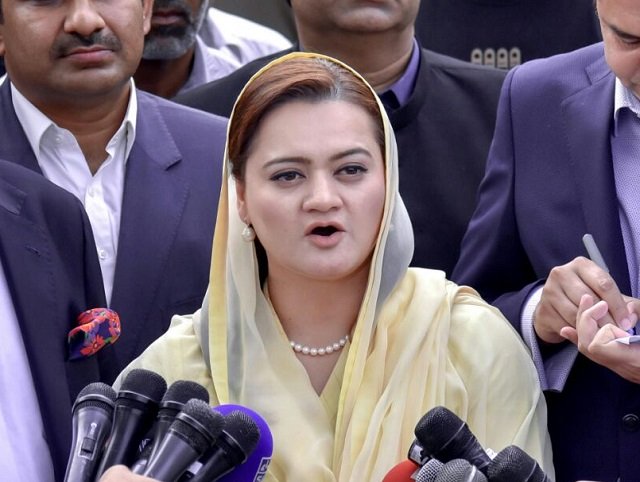 ---
ISLAMABAD: Minister of State for Information, Broadcasting, National History and Literary Heritage Marriyum Aurangzeb said on Wednesday that Imran should not blame the federal government for his failures. "Throwing the rubble of his failures on others would not help in saving him from the accountability of the masses," she said in a statement. The minister asked Imran to reveal what happened to the 350 dams and "on which planet they are being built?"

She said that Khyber-Pakhtunkhwa Chief Minister Pervez Khattak saying one thing in Council of Common Interest meetings and narrates entirely different stories while sitting with Imran. She said that the entire nation knew that Pakistan Tehreek-e-Insaf had failed miserably to serve the people of Khyber-Pakhtunkhwa.

Imran Khan fiddled while K-P burned, says Saad Rafique

The minister said that no amount of lies could endear him well to the people of Pakistan as they had seen his true face. Marriyum said that Imran had done nothing during the last four years except embellishing the container, puppet shows, lies and denigrating constitutional state institutions.

The minister said that when Imran was preparing containers, the federal and Punjab governments were busy setting up power projects which were now nearing completion, adding that instead of being jealous of Shehbaz Sharif, he should adopt the habit of working hard and creating in him the spirit to serve the people.

She said that electricity was produced through the installation of power projects and not simply by signing MOUs. Marriyum said that instead of producing electricity, Imran encouraged theft of the electricity supplied to K-P. The minister challenged Imran Khan to name a single project that the PTI government has initiated and completed.


COMMENTS
Comments are moderated and generally will be posted if they are on-topic and not abusive.
For more information, please see our Comments FAQ