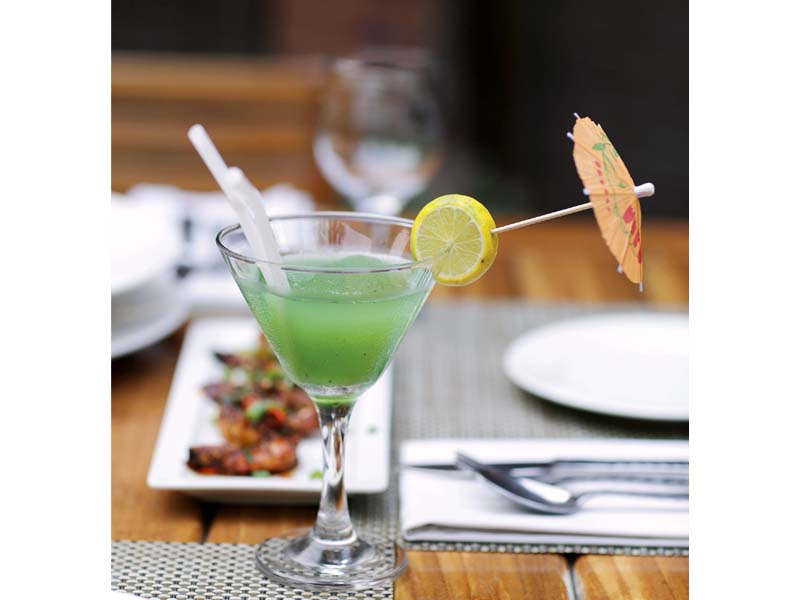 ---
For almost a decade, Marium Saqib has known the challenges and triumphs of owning and running a successful restaurant. From bussing tables during their popular high-tea, to reinventing the dinner menu every season, Marium defines what it means to innovate in an industry that is highly competitive in a city where people, well.. live to eat! The eatery is not just known for its delectable meals but its beautiful courtyard and bright space which makes it an ideal setting for large parties and gatherings. Veranda's buffet is known for its meals at lunch, high- tea and dinner. Whether it's freshly grilled fish with seasonal veggies or tender steaks and variety of pastas prepared with unique recipes, every food item is prepared with seasonal ingredients for great taste. We chat with Marium about obstacles, challenges and requirements for running a successful restaurant

How has Pakistan changed in terms of spending and eating out?

We have come a long way. Times are changing. People are now more willing to pay. Look at any big city in Pakistan and you'll have a myriad of upscale restaurants and cuisines to pick from. A large number of cafes, restaurants, fast-food outlets, dhabas and informal eateries have mushroomed all over the city targeting customers from various socio-economic backgrounds. Eating out has somewhat become a necessity. The market is growing, people have more money to spend on food and they are finally spoilt for choice. Now when you go to a Thai restaurant, you get authentic Thai food, previously it would have been a Pakistani version.




What is the process of developing a new menu or new dishes at Veranda?

It is a very lengthy and detailed process, which involves a high level of analysis. Firstly, we start with having a vision in mind, upon that we develop a recipe with an innovative flavour. Following this, we work on that specific recipe over and over again; have several food tastings, until we have perfected the flavour and texture of that specific dish, so that we can achieve the right taste according to the local palette.

How is Veranda's menu different from what other restaurants are offering?

Food is one of the primary ways restaurants differentiate themselves. You must differentiate your business to give customers a reason to choose you over your competitors. We develop and refine our unique signature items that have the power to transform guests into loyal customers. Also, we believe it's important to be a trendsetter. There's always a new trend, hence, it's important to be aware of these trends. Instead of following the latest trends, we strive to create them. This means being able to look at our customers and determining what they want, even if they don't know it themselves quite yet!




What inspired you to establish Veranda?

Veranda Bistro was my brain child. I'm a foodie and I love to entertain people, it's my forte! I was born with the passion for food.  In my opinion, Lahore really lacks nice places to eat out, so I wanted to create a true space for excellent food and a wonderful dining out experience.

In your opinion what differentiates Lahore and Karachi in terms of taste and food choice?

Lahori restaurants are meant for large parties and boisterous crowds — diners have never had as many options for food as they do today. Even with the zinda dilli that is a part and parcel of every Lahori, there's still enough space to manoeuvre and not overhear conversations from across the table. On the other hand, Karachi is all about cosy eateries with a fast turnaround, but the end result is that Karachiites are more reserved, fast eaters and experts at navigating knives and forks on a small surface area. In Lahore, dining out is celebrated with passion — the clothes that one wears and the restaurants that one goes to is just as important as what is ordered. Karachi is a truly metropolitan city with people from all backgrounds who experiment and change their palettes to adapt to the city.




What trends do you see shaping the food and beverage market in 2018?

Plant-based food will be kicked up a notch. First it was nose to tail; now it is stem to stalk. A lot more eateries will be opening up, people will demand more choices and be given more variety as well.

What is the secret behind sustaining a restaurant?

Great service doesn't happen overnight. There are no fast fixes. Building a culture of hospitality isn't something that just happens right away. There is constant pressure to keep up the good work and maintain our food standards. We have to put in a lot of hours. Authenticity is very important! We use authentic recipes and local, imported, or unique ingredients and also keep a check on what's happening in the global industry and adopt the best ideas; resulting in being a trendsetter in the industry. We also make sure to use nothing but the finest, freshest, high-end ingredients. You also need to be consistent! Keep on improving the dining experience and create a sense of community for your customers. Focusing on genuine quality service, offering the best food you possibly can and a vibrant atmosphere, are prerequisites for any successful restaurant.




What are some of the challenges of being a restaurateur?

It's hard to make a name for yourself. There's always a new establishment, food trend, or start-ups which seems to command the diner's attention. In such a saturated and fast-moving world, it makes it difficult to stand apart. Every restaurant faces intense competition, which is a huge challenge. Restaurant owners need to constantly find new ways to raise the bar and exceed customers' expectations.

What continues to motivate or inspire you in coming up with a new idea for your restaurant?

People don't just want to try new food, they're looking for new experiences. I want to create a place for people that they can find a sense of comfort within, and at the same time also feel like they have spent a fun and happy night out! It's vital to maintain our standard and name and to expand according to the new trends in the world.




What is your least favourite culinary trend?

Frozen things! I don't like my savoury food frozen. Ice cream is the exception of course, but freezing lobster? I don't want to freeze anything except my ice box.

How would you describe Veranda Bistro and its meals?

It's not just a meal, it's an experience.

What is in store for Veranda in the future?

We will continue to reinvent our restaurant by adopting emerging technologies and introducing new processes, products, flavours and recipes.
COMMENTS (2)
Comments are moderated and generally will be posted if they are on-topic and not abusive.
For more information, please see our Comments FAQ