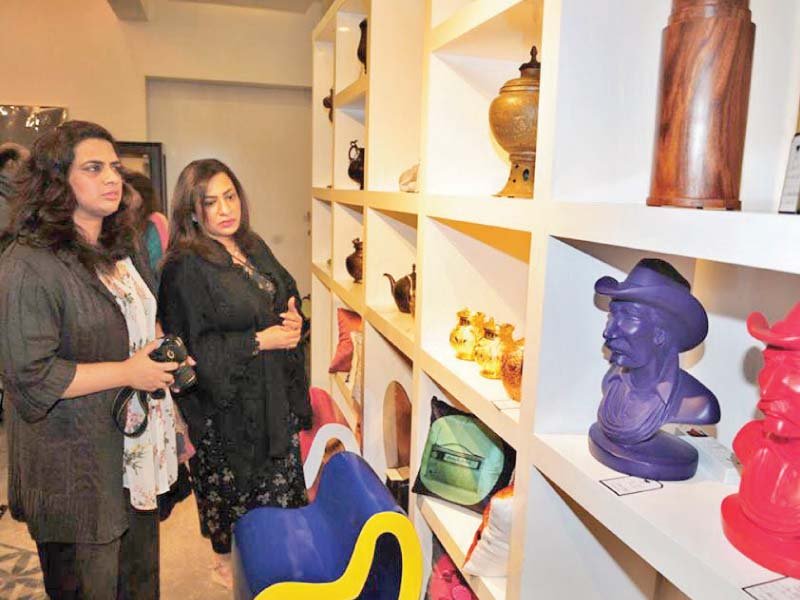 ---
LAHORE: Pakistan's famed institute 'Mehmal' organised a three-day exhibition of contemporary artworks prepared by different materials.

People from all walks of life, including art enthusiasts, participated in the exhibition taking place in Studio O. Caricature. The works were prepared from wood, metal and other material and displayed alongside antique objects.

For art and culture experts, the exhibition is first of its kind in the city. Mustansar Hussain Tarrar, Nayyer Ali Dada, RA Naeem, Saleema Hashmi, Abdul Jabbar Gul, Irfan Gul, Syed Noor, Captain Atta Muhammad Khan, Dr Sughra Sadaf, Afaq Mansoor, Pervaiz Butt, Shehla Javaid, Shehrbano Qizilbash, Amjad Islam Amjad and Pervaiz Qureshi were among the critics participating in exhibition.




Nayyer Ali Dada, while talking to The Express Tribune said that "art with lack of critical thinking deteriorates sooner'. Mehmil is giving birth to the most needed tradition of the hour in Pakistan.

Mustansar Hussain Tarrar said that the skill of art and craft and handwork, specifically, is in abundance in Pakistan and South Asia. The way society needs new representation, the need to present fresh face of art was there too. Referring to the caricatures at exhibition a beautiful amalgamation of various traditions would be unjust.

Renowned sculpture artist Abdul Jabbar Gul said that a historical and distinct work has been done by Mehmil.

Saleema Hashmi said that Lahore is the hub of art and culture. Looking at such a vast collection over here was pleasant. My good wishes are with the organizers.

R.M Naeem said that visiting a country where no artwork is on display represents a soulless society. We need to appreciate the work of our craftsmen in order to continue this tradition.

Published in The Express Tribune, January 19th, 2018.
COMMENTS
Comments are moderated and generally will be posted if they are on-topic and not abusive.
For more information, please see our Comments FAQ