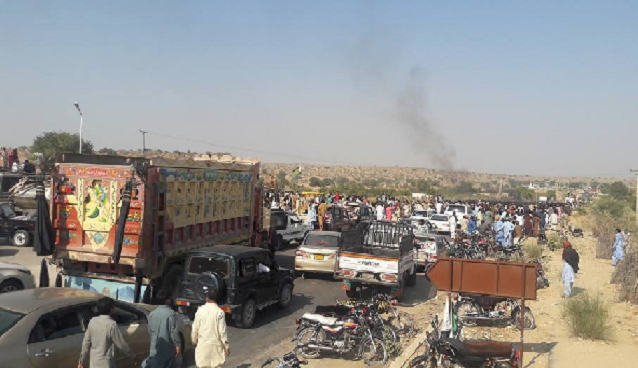 ---
KARACHI: Two Hindu grain traders were shot to death Friday morning in Mithi, Tharparkar after a dacoit attempt went wrong.

The businessmen were brothers, identified as Dileep Kumar and Chandar Maheshwari. According to local people, the incident took place early morning when the bothers opened their shop in the grain market.

Two shot dead in Sheikhupura

"The bike rider dacoits attempted to snatch the money from Hindu brothers. On resistance, they shot them," a duty officer at Mithi police station said. This was the first ever dacoit incident in the city.

Local traders have shut their business in Hindu dominated cities and towns in Thar district after the incident.

The killings of the brothers has also sowed fear in Islamkot, Mithi, Nangarparkar, Chacharo and other areas. Reports suggest police reached late to the crime scene because most of the security personnel of the district have been deployed for security of Pakistan Peoples Party (PPP) jalsa in Mirpurkhas, where Asif Ali Zardari is supposed to address.

Till the filing of the incident, the main road to and from Tharparkar has been blocked by people who have staged sit-ins against the killing.




Sindh Home Minister Sohail Anwar Siyal took notice of the incident and sent directives to SSP Umerkot to initiate investigation over the matter.

"We will soon share the details of cold-blooded murder of Hindus brothers with media and arrest the assassins," Siyal said.

"Thar is the only peaceful place in Pakistan where no theft and dacoit incident take place. This is first of such incident ," said Sajjid Bajeer, local journalist.

Indiscriminate fire: Three women and minor injured




According to Bajeer, no senior police officer reached even after the passage of four hours.

"Enraged people of Thar have blocked almost all main roads. Lots of vehicles going to participate in PPP's Mirpurkhas jalsa are struck," he said.