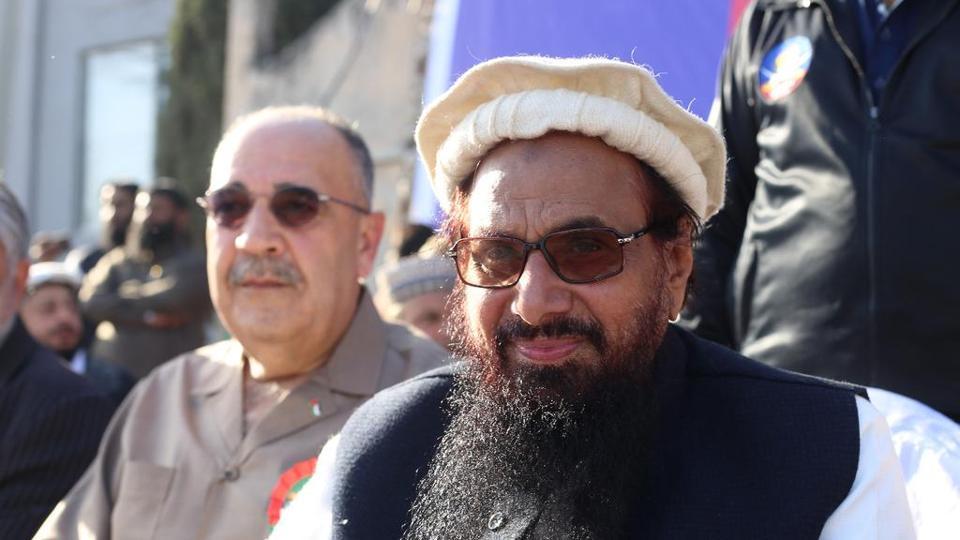 ---
In response to Indian reaction over Palestinian envoy joining Jamaatud Dawa (JuD) chief Hafiz Saeed at a rally, Pakistan has said that the public meeting was a demonstration of Pakistan's strong sentiments in support of the Palestinian cause and that UN proscription does not limit an individual's freedom of expression.

Pictures of the Palestinian ambassador to Pakistan, Walid Abu Ali, sharing the stage with Saeed and addressing the rally at Liaqat Bagh in Rawalpindi were circulated on social media on Friday.

The rally was organised by the Difa-e-Pakistan Council to denounce US decision to recognise Jerusalem as the Israeli capital.

According to the Hindustan Times, India's External Affairs Ministry planned to send a "strongly worded demarche" to the Palestinian government. "We are taking up the matter strongly with the Palestinian ambassador in New Delhi and with the Palestinian authorities," the newspaper quoted ministry spokesperson Raveesh Kumar as saying.

India angry as Palestine envoy shares stage with Hafiz Saeed

"The people and Government of Pakistan respect the Palestinian ambassador's active participation in events organised to express solidarity with the people of Palestine," Foreign Office spokesperson Dr Mohammad Faisal said in a statement.

The FO said that the public rally held on Thursday was attended by thousands of people from all walks of life, and more than 50 speakers addressed the rally, including Saeed.

"Contrary to the impression being created, UN proscription does not place any restrictions on the freedom of expression," the communique read.

Pakistan, it said has always supported the two state solution, with East Jerusalem, the capital of the Palestinian State.

Saeed, a Specially Designated Global Terrorist, was released from detention last month after the Lahore High Court rejected the government's request seeking further extension in his house arrest. The review board of the High Court said there was not sufficient evidence to keep the JuD chief under house arrest.

He and four of his aides were detained in January this year after the government told a court they presented a threat to peace and security. The move was largely attributed to US pressure.