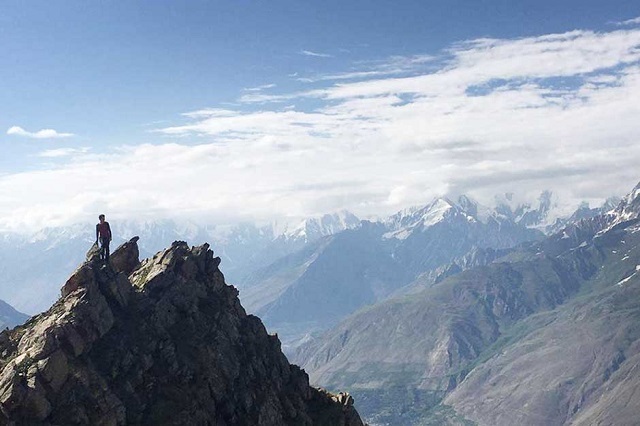 ---
The British Backpacker Society has identified Pakistan as it's top travel desitination due to it being "one of the friendliest countries on earth, with mountain scenery that is beyond anyone's wildest imagination".




"Pakistan is the clear winner of the British Backpacker Society's top 20 adventure travel destinations 2018 and we encourage keen travellers to book a trip now" the backpackers, who have explored over 101 countries, shared on social media. Other top destinations included Russia, India, Turkey, Kyrgyzstan and China.




Gulf News has carried the comments of two members of the BBS on Pakistan. Samuel Joynson and Adam Sloper said that Pakistan had a lot to offer travellers.

Despite snow, conflict ridden IoK sees sharp decline of tourism




"Pakistan is one of the friendliest countries on earth. So, prepare to be invited into people's homes, take more selfies than you can count, and have every preconception that you ever held about this area of the world changed forever," Samuel said.



The pair visited Pakistan in 2016, and traveled from Lahore to Gilgit-Baltistan via the Kaghan valley. They ended their trip in the Hunza Valley and climbed the Hon Pass near Karimabad.

"We chose to climb the Hon Pass as Eric Shipton, one of Britain's most famous mountaineers, described the view from the pass as 'the ultimate manifestation of mountain grandeur', and we wanted to follow in his footsteps and experience this spectacle," Samuel recalled. "The view from the Hon Pass was indeed the greatest natural sight that either of us has ever seen, and we would recommend it to anyone with a keen interest in mountaineering."

Camping pods set up in Shangla

Samuel also shared a travel tip: "Head north to the astonishing peaks of the Karakoram along the unforgettable Karakoram Highway. It is beautiful, exciting and culturally interesting, and travellers are rewarded at the journey's end-point with perhaps the most beautiful natural sight on earth, the Hunza Valley."

British Backpacker Society is known for inspiring thousands of it's online followers to visit less famous destinations in developing countries. Adam had a word of advice for international travelers concerned about their safety when visiting Pakistan:

"Our advice would be to put preconceptions on the security situation in Pakistan to one side, and conduct some independent research. You should certainly review travel advisories from respective governments, but also speak to local Pakistanis about the situation. We believe that travel is at its best when it changes a visitor's preconceptions, and few experiences achieve this more than travelling in Pakistan" he implored.

 


COMMENTS (3)
Comments are moderated and generally will be posted if they are on-topic and not abusive.
For more information, please see our Comments FAQ