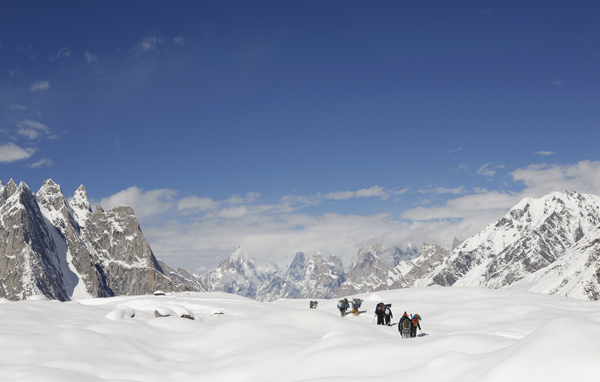 ---
While the Italians became the first to conquer the Savage Mountain — K2 — over 60 years ago, the communities and travellers heading to the world's second highest peak remember them for another important effort — keeping it clean.

This was highlighted at an event in the capital to mark the International Mountains Day. Hosted by the Italian Embassy and EvK2CNR Pakistan, the event saw screenings of best films from prestigious Trento Film Festival 65th edition. It was followed by music from the mountains with cultural performances.

In paintings, youth come to grips with climate change

Italian Ambassador Stefano Pontecorvo highlighted the importance of mountains in our lives and the role everyone plays for the conservation of natural resources, including mountains and glaciers.

He briefed about the environmental interventions made by the Italian government in Pakistan. He expressed his happiness on the long relationship between Italy and Pakistan spanning over 100 years since 1909 when the first Italian scientific expedition reached the base camp of K2 led by the Duke of Abruzzi.

Syed Abu Akif, the federal secretary for climate change, said that Pakistan, particularly Gilgit-Baltistan, was bestowed with an abundance of high snowcapped mountains and large glaciers.  He invited students and public to visit and see the natural beauty and majestic mountains.

Akif, though, was quick to remind them that Pakistan faced immense climate change threats which needed serious efforts for mitigation and adaption.

Mountaineer Ashraf Aman shared his experience of mountaineering particularly when they lacked equipment and resources.  He noted that K2 was the mountain of Italians, since Lino Lacedelli and Achille Compagnoni had first conquered it in 1954.

He applauded the waste management interventions on glaciers, which have earned Italy immense appreciation from mountaineers all over the world.

UN confab key to coping with 'catastrophic' climate change

Uzma Yousuf, the first Pakistani woman to climb Spantik, expressed her love for the mountains. She said that she feels proud to be a Pakistani woman mountaineer, adding that women, potentially, could also do best mountaineering if they are provided support, training and opportunities

EvK2CNR Resident Representative Riazul Hassan and Scientific Representative Ashiq Ahmed Khan briefed about the interventions they have made on the environment and climate change.

Published in The Express Tribune, December 13th, 2017.