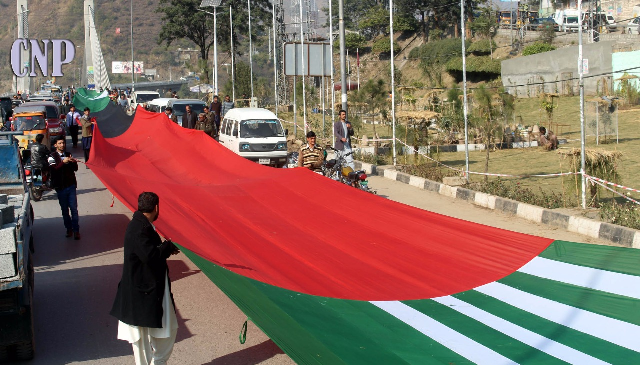 ---
MUZAFFARABAD: Thousands of Pakistan People's Party (PPP) workers across Azad Jammu and Kashmir (AJK) made their way to Islamabad's Parade Ground, on Tuesday, where a rally is being held to mark the party's 50th foundation day. Hundreds of vehicles joined the rally, led by AJK PP President Latif Akbar.

Opposition leader in the AJK Legislative Assembly Chaudhry Muhammad Yaseen also led over five thousand party members from Mirpur to Islamabad to join the Parade Ground rally.




According to Yaseen, "The party workers are eager to listen their young leader Bilawal who will address the first ever gathering in Islamabad to observe the foundation day of PPP."

50th Foundation Day: PPP promises massive crowds at jalsa today

Meanwhile, Kashmir Council Member Younas Mir claimed that more than thirty thousand party workers from AJK will attend the Parade Ground rally. Mir believes that the party's survival of three dictatorial regimes proves that the Bhutto philosophy is revered from Karachi to Kashmir.

Mir also stated that the impressive number of workers from AJK will be joined by party leaders, district presidents and Peoples Youth Organisation (PYO) office bearers at the rally. Moreover, this rally will set the stage for Bilawal Bhutto to lead the party in the upcoming elections.

PPP promises to draw massive crowds to Islamabad jalsa

The party workers carried a 1000 foot long, 14 foot wide party flag that consists of both national and AJK flags.

President AJK PPP Latif Akbar said, "The longest flag is a gift from the people of AJK to the Chairman Bilawal Bhutto on the 50th foundation day of party." He added that after reaching Faizabad, party workers from AJK will carry the longest party flag to Parade Ground.




Mir further stated that the PPP in AJK is united under the leadership of Akbar and the longest party flag is a symbol of strong alliance. He says people from Karachi to Kashmir are united under this flag, which is now the identity of a democratic Pakistan.
COMMENTS
Comments are moderated and generally will be posted if they are on-topic and not abusive.
For more information, please see our Comments FAQ