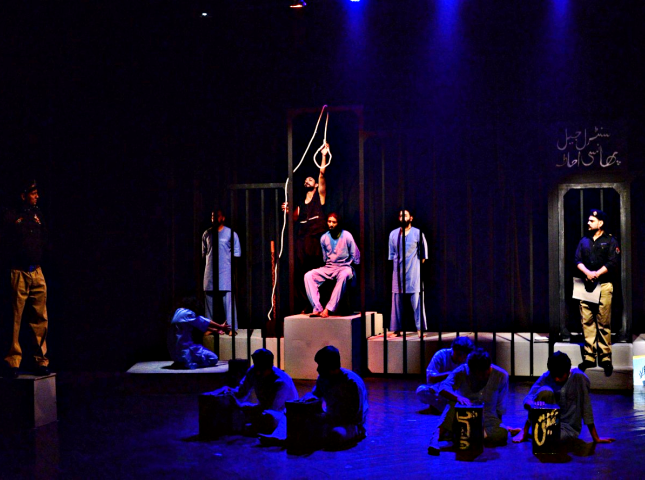 ---
LAHORE: Ajoka Theatre's latest presentation Intizaar (The Wait) – which premiered in Alhamra Hall last week – succeeded in getting critical and public acclaim. Prominent personalities from different walks of life admired the play's theme, message and performances, stated a press release.

With the tagline 'You can't take away what you cannot give,' Intizaar was based on capital punishment (death penalty) and highlighted the flaws in investigation and the other systems. The characters of the play were death row inmates of a Pakistani prison who loathed their miserable existence and thus, used their resilience and courage to make their meaningless lives somewhat meaningful.




Intizaar portrays a prisoner who can paint, another who can compose and sing, and a third who spends all his time studying and teaching others. However, there are other inmates who are there in violation of Pakistani and international laws: the juveniles, the physically-handicapped and the mentally ill. Adding to that, there are other characters whose lives are connected with the death convicts.

The play was written and co-directed by Ajoka's executive director Shahid Nadeem, who skillfully used the evergreen poetry of literary legends such as Mirza Asadullah Khan Ghalib, Dr Allama Muhammad Iqbal and Faiz Ahmad Faiz to enrich the story.




Dialogues reflecting the emotions of suffering, injustice and patience acquired instant consideration. The cast of the play includes Usman Zia, Nayyab Faiza, Mishal Khan, Sohail Tariq, Muzamil Shabbier, Usman Chaudhry, and Bilal Mishal amongst others.




From all the characters, it is the lawyer who really represents the idea of hope in the depressing situation. He devotes his time and effort to seek relief and justice for the victims of the social and institutional injustice. Intizaar was based on an accumulation of true stories however; the inmates' names have been changed for privacy.




"Intizaar is a unique project which has brought together four organisations that are committed to the cause of human rights and socially meaningful art," Nadeem stated in the press release. "Supported and coordinated by Justice Project Pakistan and Highlight Arts, London, the project has been developed by the creative partners Ajoka Theatre Pakistan and Complicite, London." Ajoka produced this play in collaboration with the Justice Peace project and the premiere was organised in collaboration with the Lahore Arts Council.

The chief guest of the opening night was renowned journalist and human rights activist Hussain Naqi. "Ajoka has always raised its voice for important issues that society faces and this particular play Intizaar is very promising for the Human Rights Commission of Pakistan (HRCP)."




He continued, "The HRCP has been working for a moratorium on Capital Punishment since its beginning in 1986 and it is very grateful that Ajoka has also thrown light on this sensitive issue through a wonderful play." He also congratulated the team on its brilliant performance. Justice Nasira Iqbal and Atta Muhammad Khan also praised the play and encouraged the team.


Have something to add to the story? Share it in the comments below.