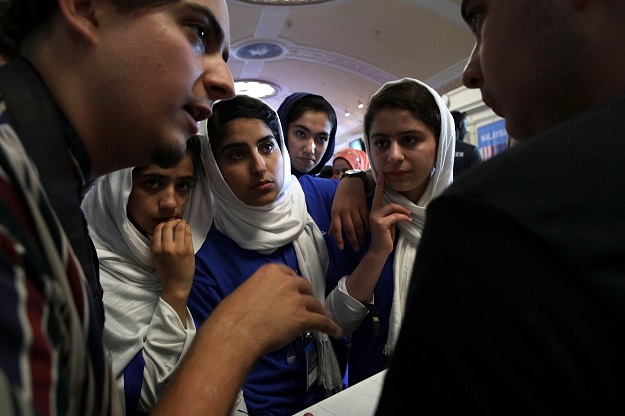 ---
Back in July, Afghanistan's all-girl robotics team made the headlines when their attempt to participate in the First Global robotics competition in the US was hampered by Trump's travel restrictions.

The team's visas were rejected twice with the girls' plight attracting international attention which resulted in an intervention from Trump's administration to grant them admission to the US.

The case was dubbed as a prime example of innocent civilians being caught in the mess caused by the restrictions.

Although Afghanistan wasn't on the list, the refusals lead to a severe outcry on social media. They were eventually given entry leading them to earn a silver medal for courage at the competition.

'Happy' Afghan girls compete at robotics meet after US visa woes




Four months later, they are in the news again, as last week the six teenage girls bagged the Entrepreneur Award at the Robotex festival in Tallinn, Estonia, the biggest robotics festival in Europe.

Congratulations to our Afghan Girls Robotics Team for winning the entrepreneur challenge in the biggest Robotics Festival in Europe in Estonia. #ProudAfghans #Robotex17 #AfgDigital pic.twitter.com/nIM6GudIul

— AfghanEmbassyLondon (@Afghan_Emb_LON) November 26, 2017

The team representing Afghanistan hails from Herat and were brought together by Roya Mahboob, who founded Citadel software company in Afghanistan and was the country's first female tech CEO.




Trump's travel ban temporarily bars visitors from Iran, Libya, Somalia, Sudan, Syria and Yemen without a "bona fide" US connection and all refugees — causing a travel headache for many countries.

Afghanistan's all-girl robotics team denied US visa

"We want to make a difference, and most breakthroughs in science, technology, and other industries normally start with the dream of a child to do something great," Team Afghanistan wrote before their first competition in the US.