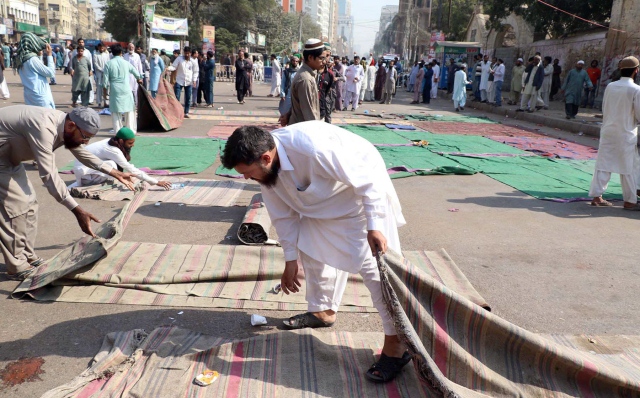 ---
KARACHI/HYDERABAD: Life in the province returned to normal on Monday after activists of Tehreek-e-Labbaik Ya Rasool Allah called off their sit-ins and protests on the orders of their leadership in Islamabad. The decision to call off the sit-ins was made after the resignation of federal law minister Zahid Hamid.

Karachi and other areas of the province came to a halt on Saturday and Sunday due to the protests.

Protests in the port city, Hyderabad, Mirpurkhas and Nawabshah divisions ended by Monday afternoon.




"Our prime demand to remove the federal minster has now been fulfilled. We have now gotten a message from our leader to wind up the protest," said a middle-aged man who, along with other people, had staged a sit-in at Numaish Chowrangi in Karachi.

Transporters had supported the call by not plying vehicles on roads and the Sindh government announced a public holiday at all schools in the province on Monday. Public and private universities, including Karachi University, Sindh Madressatul Islam, the College of Business and Management, Iqra University and others, rescheduled their examinations that were scheduled on Monday. Major markets and business centres in Saddar, Tariq Road, Clifton, Boulton Market, Jamia Cloth Market, Denso Hall, Hyderi, Liaquatabad, Gulshan-e-Iqbal, Korangi and Landhi were shut and roads bore a deserted look.

Protests cause residents to remain at home

"I have been waiting for public transport for the last hour. There are no buses and taxi and rickshaw drivers are taking advantage of the situation by enhancing their fares," said Zubair Ahmed, who was waiting for public transport near Kalapul. He said he worked at the port on daily wages and was so far unable to find a bus.




Many petrol pumps in the morning started their business by erecting the tents around their premises. Protests and sit-ins began in the province after law enforcers started a crackdown to disperse protesters at the Faizabad interchange in Islamabad on Saturday. This sparked countrywide protests and activists of the religious party staged sit-ins at around 40 places in Karachi by blocking the roads and setting tyres on fire.

Among other areas from where the sit-ins have been called off included Numaish, Sakhi Hasan, Orangi Town, Korangi, Landhi, alAsif Square, Teen Hatti, Dakkhana and Tower.

The sit-in protest in Hyderabad's Haider Chowk area, where thousands of people had gathered, also ended on Monday almost 48 hours after it began on Saturday. The protesters dispersed following orders from their leadership. The roads connected to Haider Chowk, which is a transport and commercial hub, were opened for traffic in the afternoon.




In a statement, Milli Yakjahti Council's chief and president of Jamaat-i-Ulema-i-Pakistan Sahibzada Abul Khair Muhammad Zubair congratulated the protesters for bringing the government to its knees. "By coming out on the streets they resolved the controversial amendment which the Parliament had done."