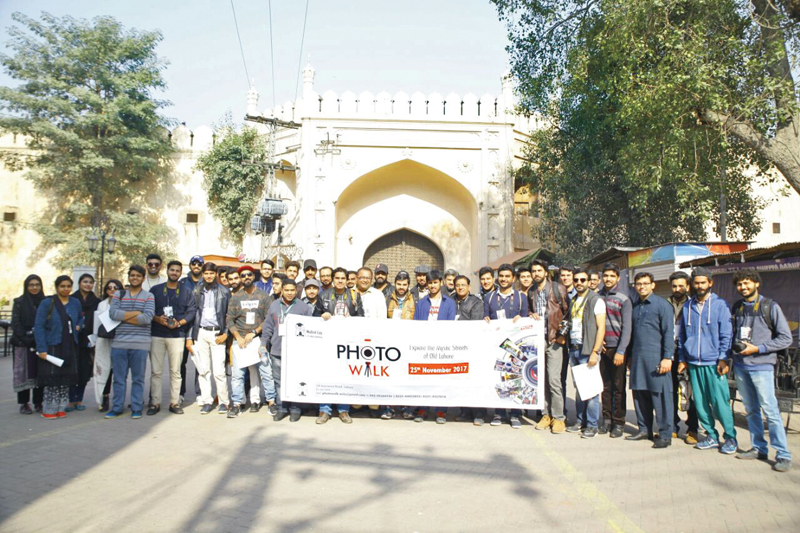 ---
LAHORE: Walled City of Lahore Authority (WCLA) organised the annual photo walk inside Taxali gate on Saturday morning.

Touted as a the biggest photo walk event of the year, it saw hundreds of participants including students and professional photographers, who walked along the route including Attractions, Ustad Daman Academy, Ooncha Chitram, Langa Mandi, Dhiyan Singh Haveli, Taranam Chowk, Sheikhupura Bazaar, Aziz Theatre, Pakistan Talkies Cinema, House of Mehdi Hassan, House of Madam Noor Jehan,  Hujra Shah Hussain and Musical Instrument Market.

First Makli conference to be held next year

Media and Marketing Deputy Director Tania Qureshi said that the objective behind the walks was to promote photo tourism in Pakistan.

"With the help of these images we will not only be able to show the rich heritage of Lahore to the world, but also bring youth closer to our heritage," she added.

WLCA Director Kamran Lashari said that photographers in the digital age were the actual ambassadors of our heritage who were keenly promoting tourism and culture through photography.

WCLA had been promoting photo tourism and culture in this digital age by conducting photo walks since 2011 in different parts of the walled city Lahore. These photo walks in the past have provided participants and opportunity  to explore the areas in the Walled City to its fullest while promoting Mughal Architecture. Previously, photo walks inside Delhi Gate, Lohari Gate, Bhatti Gate and Mochi gate had been held in which a huge number of photographers keenly participated.

Religious Tourism: Hindu pilgrims perform rituals

The Taxali Gate was one of the gates of the Walled City of Lahore. Also known as the Taxal or royal mint, it was built from 1575-1585 when Akbar the Mughal emperor expanded the original Walled City while rebuilding Lahore Fort.

There was a shoe market located here known as Sheikhupurian Market. There were a variety of special foodstuffs available in and around this gate.

The most famous were Sri Pai of Fazal Din commonly known as Phajja. Among specialist local sweet stores were the Taj Mahal and Shahabuddin Halwai. The world-renowned Heera Mandi red light area was also in this vicinity.

Published in The Express Tribune, November 27th, 2017.