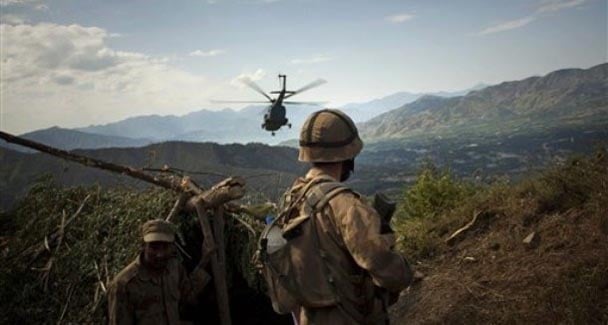 ---
HANGU: At least 103 suspected Taliban militants, among them five local commanders, were killed and 40 others injured on Sunday in the bloodiest day since paramilitary troops launched a full-scale operation in Orakzai agency on March 24.

Ten hideouts and ammunition dumps of Taliban insurgents were also destroyed in air raids by helicopter gunships and warplanes in the north of Orakzai Agency, officials said. At least 70 Taliban fighters were killed and 40 wounded when warplanes bombed a training camp in the Dabori sub division of Orakzai. The dead included five local Taliban commanders – Ajmair Mullah, Yaseen Asghar, Lahl Zada and Qeemat Khan.

On another front, helicopter gunships and jet fighters pounded the headquarters of militant commanders Maulana Wahab and Commander Mashal in Khadizai, Mamozai, Zakhtan and Alikhel areas. Some 33 militants are said to have been killed while ten important bases, ammunition dumps and five vehicles were destroyed in the blitz.

Military sources claim that most of the dead were Uzbek and local militants from the groups of slain militant commander Baitullah Mehsud and Tariq Afridi. Mehsud's loyalists control the Waziristan tribal region, while the Tariq Afridi group holds sway over Khyber Agency. The sources also claim that militants have suffered heavy losses during the last 24 hours and now they are fleeing the region. The military's claim cannot be verified independently because journalists are not allowed to enter the region.

Khadizai and Mamozai are heavily forested areas between Khyber and Orakzai agencies and are used as a hiding place by Taliban insurgents. The difficult terrain makes the area almost inaccessible by road. Hundreds of paramilitary troops, backed by heavy artillery and air power, moved into Orakzai Agency on March 24 following reports that militants fleeing a military operation in South Waziristan were regrouping in the region. According to an official tally, more than 800 militants have been killed ever since. Fighting intensified after militants mounted attacks on security forces in the Dabori area which was already secured by troops.

Published in the Express Tribune, May 24th, 2010.