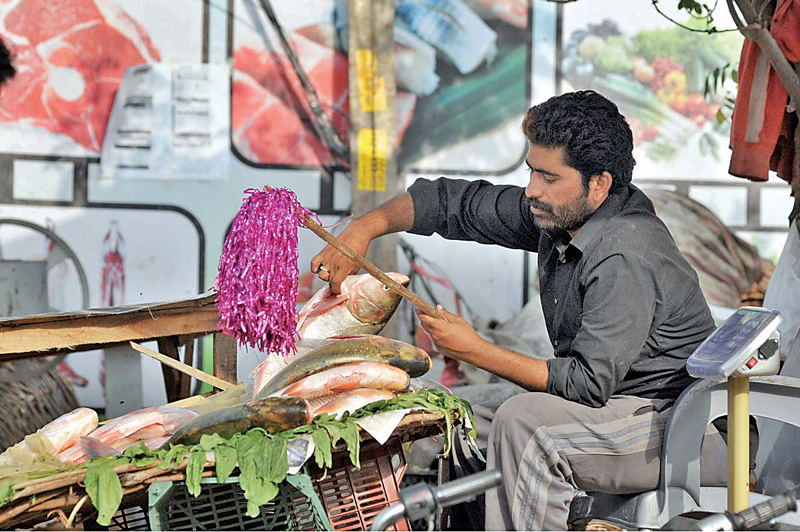 ---
ISLAMABAD: As winter starts to take hold in the twin cities of Islamabad and Rawalpindi, the demand for fried fish, a favourite delicacy of the season, has increased.

Men, women and even children can be seen thronging fish stalls in different parts of the twin cities where freshwater fish are displayed. Many vendors are cashing in on the trend and setting up fried fish stalls outside their outlets to attract customers.

7 foods to help you look younger

Several markets of town including Saddar, Chotta Bazaar, Committee Chowk, Raja Bazaar, Buni, College Road, Commercial Market, Chandni Chowk and other places are witnessing stalls of fish and shopkeepers are doing a good business.

A customer first picks out the fish they want. It is then weighed and then chopped up to the customer's liking. It is then covered in batter and then fried in a large cauldron filled with oil or ghee.

Hussain Alam, who owns one of these fish stalls and has been in the business for the past 12 years, explained that while fish is available for most of the year, his business peaks in winter.

"I earn three to four times the usual amount in winter as people prefer to eat fried fish owing to its affordability," he added.

Ahmad Ali, another fish vendor, said, "We receive many orders from the people during the day, some want deep-fried fish, some prefer 'tawa machi'.

However, he pointed out that apart from these mainstays, there were a few new trends out there driving increasing customers.

"Grilled and baked fish is the new craze," Ali said.

Talking about the type of fish most preferred by customers, Ali said that Pomfret and Mushka fish were quite popular. Explaining the reason behind their popularity over other fish, he explained that people do not like fish with small, sharp bones which can get stuck in one's gums or down one's throat, piercing them.

"This is why older people usually exhort their children to first chew bony fish with their front teeth or incisors," he said.

A fried fish seller, Khalil Khan, said, "I have been in this business for the past 26 years. The demand for fish increases every winter, therefore we try to earn a lot to balance our budget."

Robots, chefs hope to bring invasive lion fish to restaurants near you

"I simply love fried fish with chips and sauce, especially those sold in the open markets because it is fresh and delicious," said Asiya Khan, a customer at one of the fish stalls.

Medical experts also recommend the consumption of fish, particularly in winter, since it is packed with protein, vitamins, and nutrients which can lower blood pressure and help reduce the risk of a heart attack or stroke.

Published in The Express Tribune, November 20th, 2017.