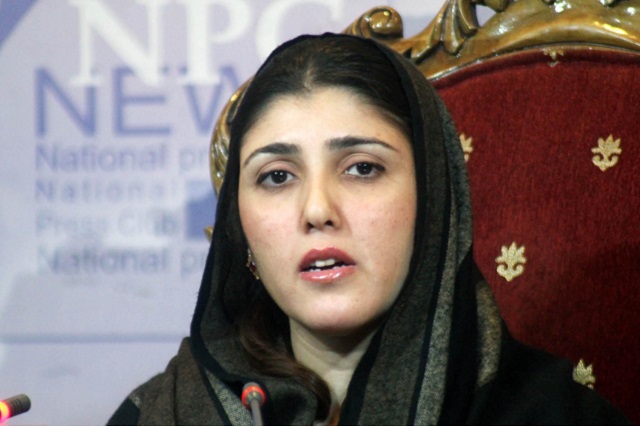 ---
Estranged Pakistan Tehreek-e-Insaf MNA Ayesha Gulalai claimed on Wednesday that party chief Imran Khan had instigated Tehreek-e-Labbaik (TLY) to stage a sit-in at the Faizabad Interchange and create unrest in the federal capital.

"Imran Khan has close ties with the Taliban," the MNA from South Waziristan told reporters at a press conference in Islamabad, Express News reported.

Gulalai also criticised Imran for staying silent on the recent issue of a girl being paraded naked in a village in Dera Ismail Khan.

Tehreek-e-Labbaik protesters injure three cops at Faizabad Interchange

She said the PTI chief was reluctant to speak on the matter because one of his party men, Khyber-Pakhtunkhwa (K-P) Revenue Minister Ali Amin Gandapur, was patronising the people who were involved in that hideous crime.

"A 16-year-old girl was filmed while being forced to parade naked in the village. Is this the change the PTI has introduced in K-P?" she remarked.

PPP MPA demands Gandapur's arrest for 'backing' men who paraded girl naked

The MNA alleged that Gandapur considered himself a wadera and even the area's deputy commissioner and journalists were scared to stand up to him.

"I know him [Gandapur] very well. He is involved in drugs. We all saw what was found in his car," she added, referring to police booking the PTI leader last year for possessing liquor and openly displaying 'unlicenced' weapons.

"It is shameful that the PTI-led K-P government hasn't uttered a word on the Dera Ismail Khan incident."

'Honey' trap: Gandapur booked for liquor, weapons

Gulalai said she was surprised as to why an anti-terrorism court had granted bail to Imran in not just one but in four separate cases.

"It is astonishing to see that the court has granted bail to Imran, who committed an act of terrorism by ordering an attack on the PTV office in Islamabad.," she maintained.
COMMENTS
Comments are moderated and generally will be posted if they are on-topic and not abusive.
For more information, please see our Comments FAQ