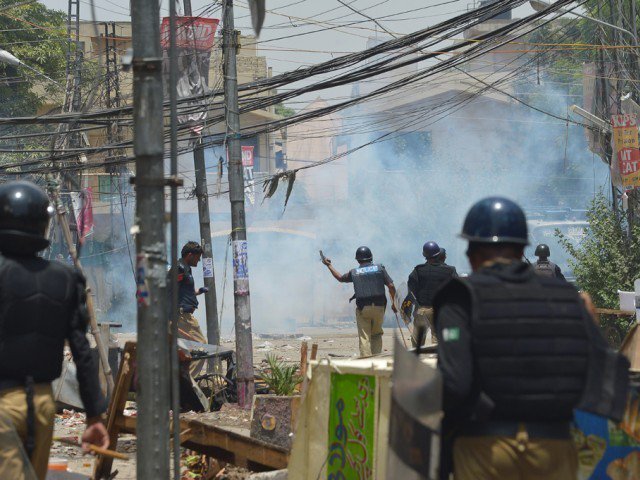 ---
LAHORE: A full bench of the Lahore High Court (LHC) on Tuesday expressed displeasure over the government failure to produce Justice Baqar Najafi's inquiry report on the Model Town incident and directed the home secretary to produce the same by Thursday, November 16.

The Punjab government had presented the report to the full bench on November 9. But on Tuesday, the bench remarked that it had asked the provincial government to present the report again on November 14 as it could not examine it due to the shortage of time.

The bench, led by Justice Abid Aziz Sheikh, was hearing the Punjab government's appeal against a single bench order to make the judicial inquiry report public.

LHC orders Punjab govt to release judicial report of Model Town incident

The bench was told that due to the non-availability of the government's lawyer, Khawaja Haris, the report could not be produced on Tuesday.

The court reacted with dismay and said it was the home secretary who was ordered to produce the report and whether the government's lawyer was present or not made no difference.

Meanwhile, Advocate Azhar Siddique and Khawaja Ahmed Tariq Raheem, lawyers for the Pakistan Awami Tehreek (PAT), argued that the Model Town incident report is a public document as every citizen has the right of information under the law.

SHC seeks report on Model Town episode

They pleaded that the inquiry was conducted on the directions of the Punjab government in order to bring to book those responsible for the incident as well as to dispense justice to the heirs of those who were killed or injured.

The PAT lawyers informed the court that the heirs of the deceased, as well as injured, were yet to know who was actually responsible for the 'massacre'.

They argued that the Punjab government had first asked for a judicial inquiry and then started making contemptuous remarks against Justice Najafi. They prayed that the Punjab government's intra court appeal should be dismissed and the judicial inquiry of the Model Town incident be made public.

Model Town incident: Punjab challenges LHC verdict to make inquiry report public

In previous proceedings, Punjab government's lawyer Khawaja Haris – while completing his arguments – contended that the Model Town incident report had no judicial significance. He argued that the government had ordered the inquiry to know the actual facts of the incident so that such incidents could be avoided in future.

Haris contended that the government's version was not heard by the single bench comprising Justice Syyed Mazahar Ali Akbar Naqvi while a decision to make the inquiry report public was issued. He requested the court to set aside the order of the single bench.
COMMENTS
Comments are moderated and generally will be posted if they are on-topic and not abusive.
For more information, please see our Comments FAQ