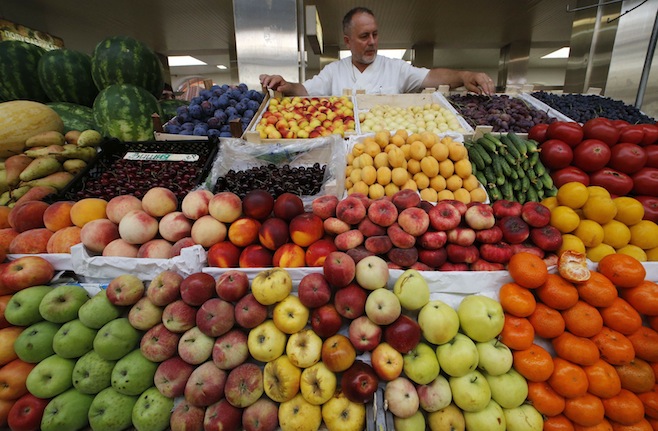 ---
LAHORE: After banning cultivation of vegetables with sewage water, the Punjab Food Authority (PFA) has also banned the use of calcium carbide - a chemical used for artificial ripening of fruits.

According to the PFA spokesman, the chemical can cause cancer, intestine infections, loss of memory, insomnia and other fatal diseases.

Therefore, considering harmful effects of calcium carbide, the authority has decided to ban the use of this chemical from December 10, he added.

He said that the authority has already issued warning notices to fruit farmers, cold storage units and fruit traders in different areas of the province.

PHDEC's revival likely to boost fruit exports

The authority will take stern action and discard all such fruit that are artificially ripped by use of harmful chemical once the deadline of December 10 is reached, he added.

PFA Director General Noorul Amin Mengal said though artificial ripening of fruits and vegetables is dangerous for people of all ages, but it is more dangerous for children and elderly people. Some experts believed using calcium carbide for ripen of fruits, produces acetylene gas that may cause life-threatening diseases.

Ethylene is being used for artificial ripening of fruit around the world, he said.

He pointed out that to ascertain a safer growth process, the matter has been referred to the authority's scientific panel of experts.

Any further action would be taken after getting report of the scientific panel. He underscored that calcium carbide ripen fruits are silent killers and the authority cannot allow the sale of such fruit.

Earlier in the week, the authority discarded 2,500 kanals of vegetable cultivated with sewage and industrial waste.

The PFA has declared all these areas 'red zone' where vegetable crops were being irrigated with sewage and industrial waste water.

The authority has also divided Punjab in zones through mapping and allowed farmers to cultivate only non-edible alternative crops in red zone areas.

These included bamboos, flowers and indoor plants which used sewage water for irrigation.

During operation, the PFA has ploughed on the crops of coriander, spinach, garlic, turnip, potato and many others.

Sewerage-water treated vegetables were cultivated over 62 acres in Jhang, 25 kanals in Toba Take Singh and 41 acres in Chinnot.

The authority has also decided to conduct awareness workshops for training of farmers.

Published in The Express Tribune, November 12th, 2017.