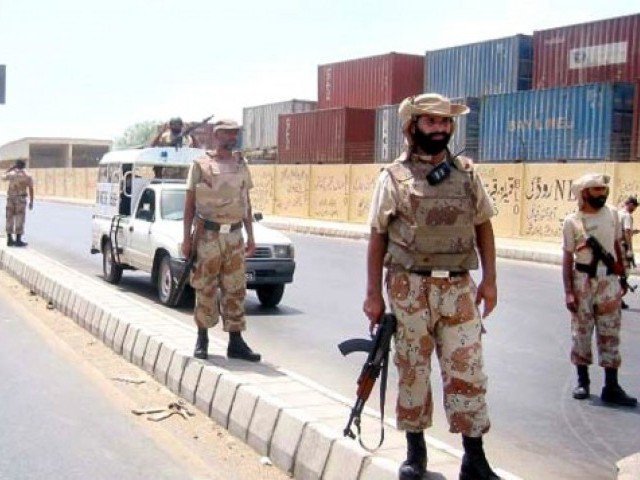 ---
Father of one of the suspected members of the militant outfit Ansarul Sharia said on Wednesday that his son had been "illegally detained" for over a month before being killed.

Roshan Jamal has filed a petition in the Sindh High Court (SHC) against the "extra-judicial killing".

Hafiz Saad Jamal was one of the suspected terrorists killed in the October 22 raid by Rangers.

According to his plea, Rangers officials picked up Saad from near his in Gulshan-e-Maymar on September 6, after Fajr prayers. His father also stated that law-enforcement agencies (LEA) raided their house, took away Saad's mobile phone and laptop, telling the family that he would be released after inquiry.

Eight terrorists killed late Saturday belong to Ansarul Sharia: Rangers

Roshan also added that the family reported Saad's detention to the Rangers' helpline through a voice message on September 8, but to no avail. His petition further states that LEA officials raided their house again on September 24, and took away Saad's brother Mohammad Hassan Jamal.

Hassan works at Pakistan Space and Upper Atmosphere Research Commission. The LEA took Hassan, his laptop, his mobile phone, and his motorcycle as well.

Roshan added that on October 22, the Rangers and Counter-Terrorism Department officials announced in a press conference that eight people, including his son Saad, had been killed following a shootout with Ansarul Sharia militants in Baldia Town.

The announcement caused Saad's family severe mental trauma and agony, the petition stated that Roshan was apprehensive that his other son may have also been killed because the family has no knowledge of his whereabouts.

The bereaved father stated that principles of justice, and the Constitution had been violated which promises to protect all citizens. He requested that the court order the police and Rangers to produce his detained son in court, and provide details of the charges against him.

After a preliminary hearing, an SHC division bench headed by Justice Naimatullah Phulpoto issued notices to the federal and provincial law officers and the Sindh prosecutor general directing them to submit their response by November 30.

Forces repulse attack on former militant's house in Mohmand Agency

On October 22, a press conference was held to disclose that eight militants were killed in a joint venture during a four-hour-long intelligence-based operation in Raees Goth, Baldia Town, which began at around 11pm on Saturday night. Two Rangers soldiers and one CTD personnel were also wounded.

The killed terrorists were identified as group chief Sheharyar Warsi alias Abdullah Hashmi, Arsalan Baig, Saad Jamal, Kamran Riaz, Abu Bakar, Talha Ansari, Nihalul Haq and Hassan Haroon while the four absconders as Danish Rasheed, Junaid Rasheed, Abdul Kareem Sarosh Siddiqui and Muzammil. A huge cache of arms, ammunition, explosives, videos, video devices and jihadi material were also recovered, the law enforcers claimed.