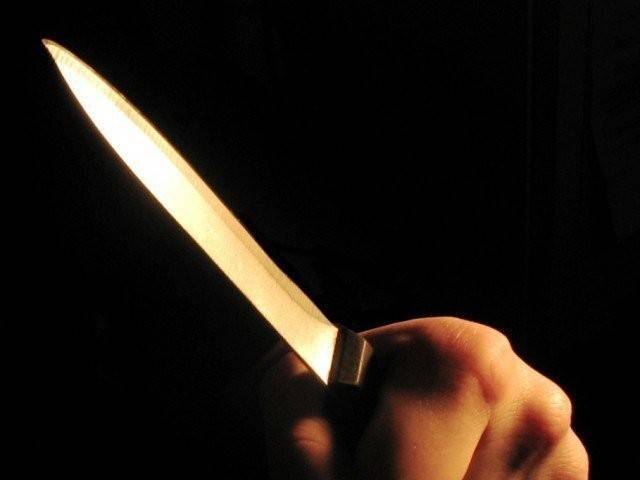 ---
KARACHI: Another attack on a woman in Karachi has puzzled the police officials. In the incident, a young girl was stabbed and injured in the Jauharabad area of Federal B Area in District Central. Police said that the incident occurred on early Tuesday morning, however, it was reported by the victims' family in the afternoon.
According to the family, 15-year-old E* was on her way to her grandmother's home, located in Block 9 of Federal B Area, with her brother on a motorcycle when a motorcyclist, wearing a helmet, attacked her with a sharp-edged object.

Karachi stabbings: Police think they've got the wrong guy

"We were on our way when suddenly a speeding motorcyclist came close, attacked my sister and escaped," said the victim's brother I*, who was riding the motorcycle.
The victim claimed that she was hit with a sharp-edged object in her back. She was immediately taken to a nearby private hospital where doctors confirmed that she had been stabbed with a sharp object.

Karachi's serial 'knife attacker' arrested in Mandi Bahuddin: police

Jauharabad police have registered a FIR under Section 324 (attempt to murder) of the Pakistan Penal Code against the unidentified motorcyclist on behalf of the victim's uncle T* and initiated further investigations. "It was an attack, not an accident," claimed the victim's uncle.
Police said they have obtained the footage recorded by the closed-circuit television (CCTV) cameras in the area and are trying to trace and arrest the suspect with their help. It has yet to be ascertained whether he was the same suspect who was involved in the series of attacks on women in Gulshan--e-lqbal and its surrounding areas or some other man, claimed the police.

Karachi women arm themselves against 'knifeman'

The police are investigating the cases from different angles as the victim had initially said that she was hit by a sharp object during a collision between two motorcycles.
"We did not get any clues regarding the suspect with the help of the footage," said SHO Saleem Siddiqui. He added that it was the first incident to have occurred in which a woman was targeted while riding with her brother.

Another woman stabbed in Karachi as 'knifeman' remains at large

This is the second similar incident to have occurred in District Central as previously, a woman was allegedly stabbed and injured in North Nazimabad a few days ago and so far, at least 13 women have been injured in different parts of District East, including Gulistan-e-Jauhar, Dalmia, Rashid Minhas Road, Pehlwan Goth and PIB Colony. Over a dozen cases have also been registered since such incidents began on September 25.
The police released the suspect's picture, seeking the help of citizens and also announced a reward of Rs1 million for assisting the authorities in tracing and arresting him.

Knife-wielding motorcyclist forces women to stay home in Karachi

However, investigators are puzzled as the prime suspect, Waseem, has already been arrested in a joint venture by the Punjab and Sindh police from Mandi Bahuddin a few days ago. Waseem is believed to be involved in attacks on women in Karachi.
"Waseem is currently in the custody of Sahiwal police as they did not hand him over to Lahore police," said SSP Haider Raza, who is currently in Sahiwal. He added that Lahore police officials are in Sahiwal and are interrogating the suspect. DIG Sahiwal has given them two days to interrogate the suspect in order to confirm whether he was involved in Lahore's incidents, he said. "So far, investigations confirm that Waseem was not involved in Karachi's incidents, yet we are investigating the case further as his cellphone's location records show that he was not in Karachi during the series of attacks."

*Names withheld to protect identity.