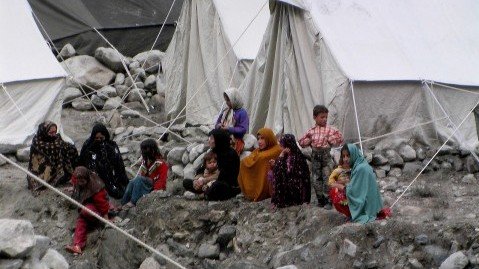 ---
HUNZA: Minister for Kashmir Affairs and Gilgit-Baltistan, Mian Manzoor Wattoo said that a relief package for Attabad Lake affectees is ready and will be delivered to them in one week.

Watoo said the government has wasted no time in helping the affectees explaining how they were moved to safer areas to escape the flooding.

Manzoor Wattoo also praised the people for their bravery in facing the tough circumstances. While quoting an incident, Wattoo said 19 people were killed and more than 10 were injured when debris fell on them.

Protest in Hunza

Earlier today, residents in Hunza displaced by the Attabad lake protested against the government for not announcing a relief package on Saturday.

The protestors staged a sit in at the Ganeish crossing and chanted slogans against the government. A number of women and children were also amongst the protestors and demanded compensation for their losses.

Meanwhile Chief Minister of Gilgit Baltistan,  Mehdi Shah said the government cannot give out aid until the water has been discharged from the lake. He however announced financial assistance worth Rs100,000 rupees for each member of the affected families.

On Friday night, the administration tried negotiating with the affectees but talks proved futile.

The affectees say their villages have been submerged for the past four months and they have no help from the government.
COMMENTS (1)
Comments are moderated and generally will be posted if they are on-topic and not abusive.
For more information, please see our Comments FAQ