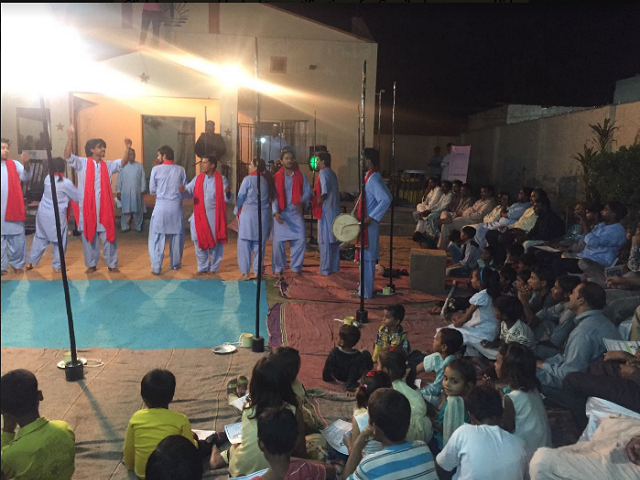 ---
Justice Project Pakistan (JPP), in collaboration with Azad Theatre and Highlight Arts, staged Intezar in Multan on Friday as part of its Bus Kar Do campaign.

This was the second edition of the five-city bus tour as part of a public advocacy effort for World Day Against the Death Penalty, observed globally on October 10, said a statement.

The play was staged in Sahiwal on Thursday, after which at least 50 people wrote postcards to the Presidency – asking for mercy for Pakistan's most vulnerable prisoners.

President Mamnoon Hussain possesses the constitutional authority to pardon death row defendants by accepting mercy petitions under Article 45.

Three terrorists hanged in K-P

Bus Kar Do seeks to highlight how Pakistan's death penalty disproportionately and systematically targets its poorest and most vulnerable citizens. This is in line with this year's global theme of 'poverty and injustice' that World Day Against the Death Penalty will follow.

By staging performances and conducting additional activities to engage local communities, the human rights organisation seeks to educate Pakistanis about the plight of the most vulnerable prisoners on death row, their journey through the criminal justice system and how many are denied proper legal representation and basic fair trial protections in the criminal justice system that is rife with corruption and beholden to power.

As part of the campaign, JPP then set up a space to better acquaint the audience with the country's legal infrastructure and the fundamental rights of prisoners under the Constitution. The audience spoke with former prisoners, participated in a selfie booth and installations. Children were provided colouring pages and guests were provided with post cards to write to the Presidency, according to the statement. Many activists and local NGOs were present in the audience.

Bus Kar Do heads to Sukkur tomorrow (Saturday) and its third edition will be staged on Saturday, October 7.