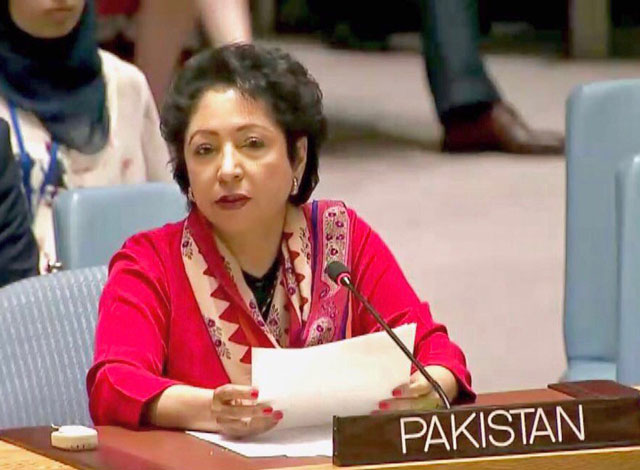 ---
Pakistan's permanent representative to the United Nations on Friday said that Pakistan had turned the tide against terrorism by carrying out determined actions against terrorists networks in the region, Radio Pakistan reported.

Maleeha Lodhi apprised the representatives at the UN General Assembly's Sixth Committee during the debate on terrorism that Pakistan's actions against terrorists networks had resulted in reduction of their activities.

She also maintained that the threats being faced by Pakistan "are supported and financed by external forces working outside the borders".

Pakistan, Arab League express concern over situation in Palestine, held Kashmir

The ambassador reiterated support for OIC position on a consensus-based, comprehensive convention on international terrorism, adding that any malicious attempt by those seeking to distort the consensus against terrorism to be able to carry out suppression of people's struggle should never succeed.

Speaking at the UN earlier, Lodhi had urged the international community to take "urgent" action against India to stop its open threats to use force amid the prevailing tensions between the two countries.

India, she said, resorted to daily violations of the ceasefire along the LoC to cover up its crimes against the Kashmiri people and to divert the world attention from its occupation.
COMMENTS
Comments are moderated and generally will be posted if they are on-topic and not abusive.
For more information, please see our Comments FAQ