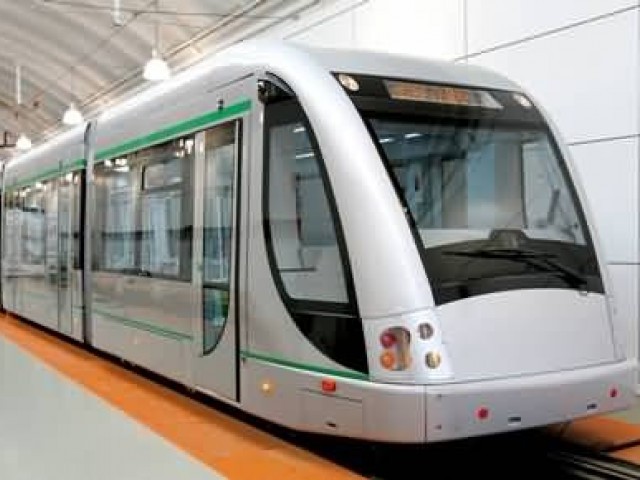 ---
LAHORE: OLMT Steering Committee Chairman Khawaja Ahmad Hassaan has said the first metro train has reached Lahore and would be unveiled in a ceremony on Saturday.

Hassaan made these remarks on Wednesday during a weekly meeting of the project. He said rolling stock for the Lahore Orange Line Metro Train (OLMT) has been manufactured at par with international standards for providing efficient and economical public transport facility to the masses.

First Orange Line Metro train rolls out

He informed the meeting that Chinese contractors, CR-NORINCO, have issued schedule for arrival of locomotives for the OLMT project, indicating 23 trains would reach Lahore by the end of the current year, while coaches for the remaining trains would arrive by March 2018.

Hassaan said total 27 trains would be operated on metro track and each train would comprise five carriages. Each compartment of the train is 20 metres long with 60 seats having capacity of 200 passengers. Separate seats have been reserved for the elderly, disabled persons and women in these carriages. A public address system has also been installed in the train for announcing the name of next station after every stopover.

"An energy-saving air-conditioning system suitable for the constant high summer temperature in Pakistan has also been designed and installed in the train," he added

The meeting participants were informed that total 75.3% of civil works of the metro train had been completed so far. Progress on package-I from Dera Gujjaran, GT Road to Chouburji is 86.7%, on package-II from Choburji to Ali Town is 56.3%, on Depot near Dera Gujran is 80.1% while on Stabling Yard near Ali Town it was 77.3%.

Orange Line moving along: 5 stations to be handed to contractors

Haassan directed the authorities to take the project as a challenge by executing work on fast track and setting short timelines for accomplishing various tasks. He also directed the civil and E&M contractors for increasing workforce for this purpose for completing the project on deadline.

The meeting was attended by Lahore Mayor Colonel (retd) Mubashir Javed, Chief Traffic Officer Rai Ijaz Ahmad, Chief Engineer LDA Asrar Saeed, Chief Engineer TEPA Saifur Rahman, NESPAK General Manager Salman Hafeez, senior officials of LESCO, WASA, PTCL, Traffic Police, Railways, Rescue 1122, Civil Defence, Chinese contractors and the CR- NOROINCO representatives.

The 27-kilometre Orange Line Metro Train project is being funded through $1.65 billion (Rs165 billion) soft loan from China's Exim Bank. Project documents indicate around $1 billion would be directly transferred to the Chinese contractors, CR-NORINCO, for procurement of the rolling stock while the remaining amount would be transferred to Pakistan for construction of track and provision of allied infrastructure.

The project is part of the city metro network and when completed, it will connect Raiwind, Multan Road, Mcleod Road, Lahore Junction Railway Station and the Grand Trunk Road. It will be the first line of the Lahore Metro, which is the country's first mass rapid transit train system.

Published in The Express Tribune, October 5th, 2017.