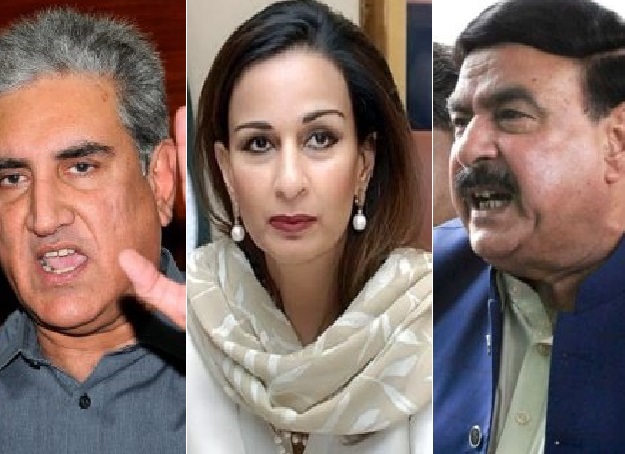 ---
Opposition parties demanded on Wednesday that Finance Minister Ishaq Dar should resign in the wake of his indictment by an accountability court earlier in the day.

Dar pleaded not guilty before the court, which is hearing a National Accountability Bureau reference against him for possession of assets beyond his means.

Pakistan Tehreek-e-Insaf (PTI) leader Shah Mehmood Qureshi told reporters that the finance minister should tender his resignation immediately for the sake of the country's economy.

He added that Dar's focus would now be diverted towards the case, not allowing him to serve as a finance minister properly.

Accountability court indicts Ishaq Dar in graft case

Pakistan People's Party (PPP) leader Saleem Mandviwalla addressed a press conference where he demanded that Dar should step down.

"We [PPP] had recommended during a meeting of a Senate committee that the finance minister should resign but the Pakistan Muslim League-Nawaz (PML-N) didn't agree to it," he maintained.

At a separate press conference, PPP leader Sherry Rehman, pointing out the indictment of Dar, said deposed PM Nawaz Sharif was creating unrest in the country.

"Nawaz Sharif isn't trying to save democracy, he's trying to save his own skin," she added.

Speaking on the recently passed electoral reforms bill, Rehman said the PPP's stance had remained clear that it would protect democracy, not an individual.

Finance czar: Double whammy for Ishaq Dar

Awami Muslim League (AML) chief Sheikh Rashid went a step further by saying that it was a matter of great embarrassment for Pakistan that its finance minister was involved in money laundering.

He added that the court verdict in the Rs1.2 billion Hudabiya Paper Mills scam would be announced in a week and Dar would face the brunt of its consequences.








COMMENTS (3)
Comments are moderated and generally will be posted if they are on-topic and not abusive.
For more information, please see our Comments FAQ