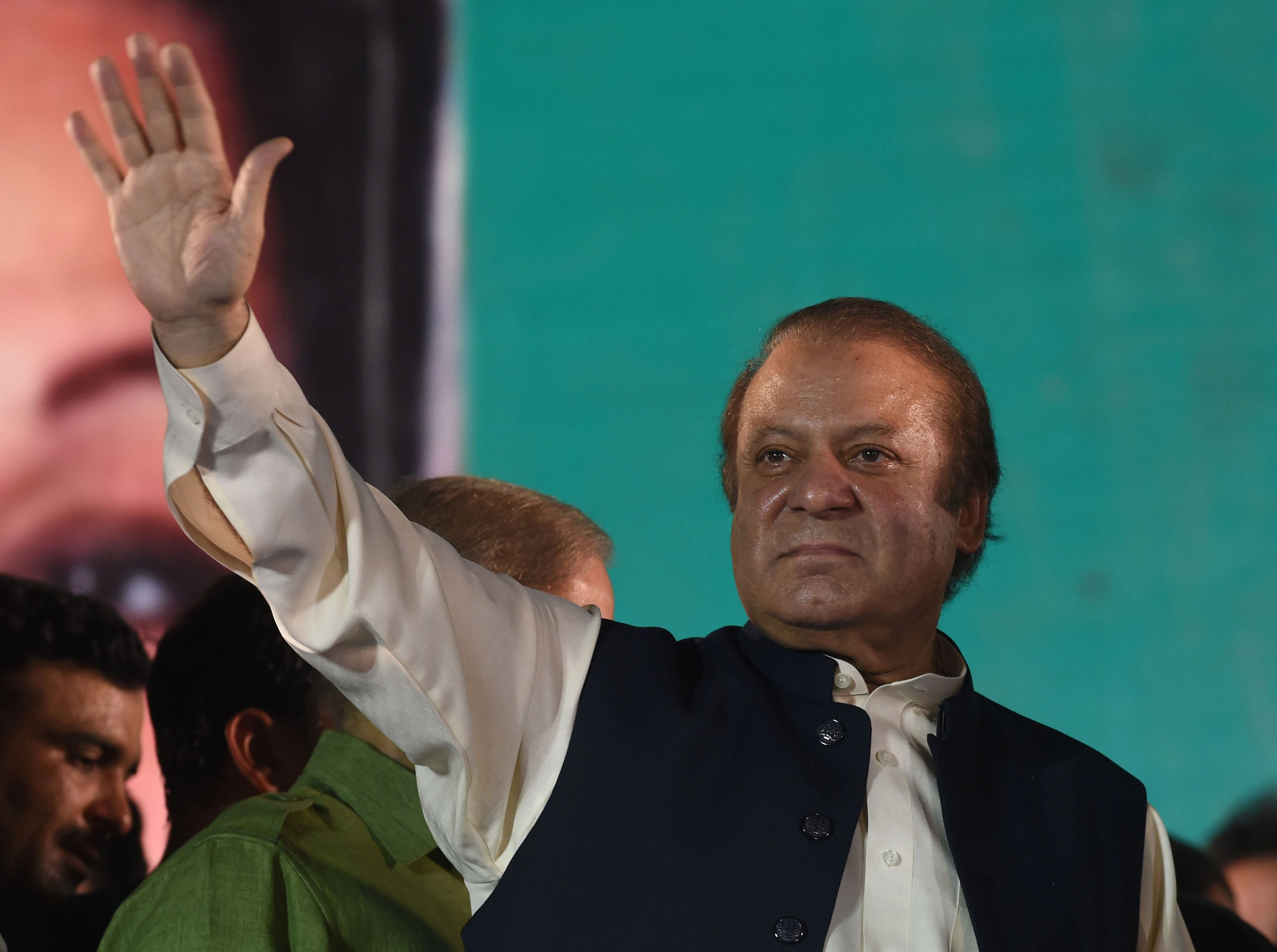 ---
ISLAMABAD: Former prime minister Nawaz Sharif returned to Pakistan on Monday after spending more than three weeks in London and went straight into several consultation sessions with party leaders about his future plans.

Sharif's close aides confirmed his appearance before the accountability court on Tuesday (today) in the federal capital to face the references filed against him by the National Accountability Bureau (NAB) mandated by the Supreme Court in its judgment in the Panamagate case.


Muhammad Nawaz Sharif meeting with Prime Minister Shahid Khaqan Abbasi pic.twitter.com/3dMeXZz2da

— PML(N) (@pmln_org) September 25, 2017




Sharif left for London on August 30 days after his wife, Kulsoom Nawaz, was diagnosed with lymph node cancer. Since then, she had undergone three surgeries in the British capital, with Sharif and their sons beside her.

The former premier landed at Benazir Bhutto International Airport Islamabad by a Pakistan International Airlines (PIA) flight PK-786 on Monday morning. From there he went to the Punjab House, where he was staying.

Following his arrival, the former PM had a packed schedule. He met top government functionaries and party leaders, including Prime Minister Shahid Khaqan Abbasi. Former interior minister Chaudhry Nisar Ali Khan, who has lately been in the spotlight for criticising his own colleagues in the ruling Pakistan Muslim League-Nawaz, also called on Sharif.

Sharif is back — to face accountability

According to party insiders, ties between Khan and Sharif were not "as bad as being projected". They said Khan might be opposed to certain circles in the PML-N but he had unconditional loyalty to Sharif, something that the former PM acknowledges.

Most of Sharif interactions with his political and legal aides focused on the ongoing accountability trial and Sharif's possible return as PML-N president and his further future plans, the party insiders said.

Recently, the Senate passed the election reforms bill with an amendment, paving the way for Sharif's elevation as party president. Given the PML-N majority, the bill is likely to have an easy sailing in the National Assembly.

However, there were apprehensions within some party circles that the move could be challenged in the courts. In this context, consultations continued between the deposed premier and his legal team, to put up an effective legal defence in case the matter lands in the court.

Nawaz Sharif leaves for London to meet ailing wife

One of the close aides to Sharif told The Express Tribune that the former premier would also visit NA-120 Lahore, his home constituency, in the coming days to thank voters for supporting his wife in the recently held by-poll.

Speaking to the media on Monday after Sharif's arrival, PM's Special Assistant on Political Affairs Senator Asif Kirmani confirmed that Sharif would appear before the NAB court and hold a press conference thereafter.

He said consultations between the former premier and his aides were going on to deal with legal and political issues. "Mian Sahib did not go to London out of choice but out of compulsion. He had to be there to attend his ailing wife," he said.

Responding to a query as to when Sharif would return as PML-N president, Kirmani told The Express Tribune the party's general council would take a decision in this regard. Asked whether Sharif would stay in the federal capital for long, Kirmani said, "You'll get to know about his schedule soon."
COMMENTS (6)
Comments are moderated and generally will be posted if they are on-topic and not abusive.
For more information, please see our Comments FAQ