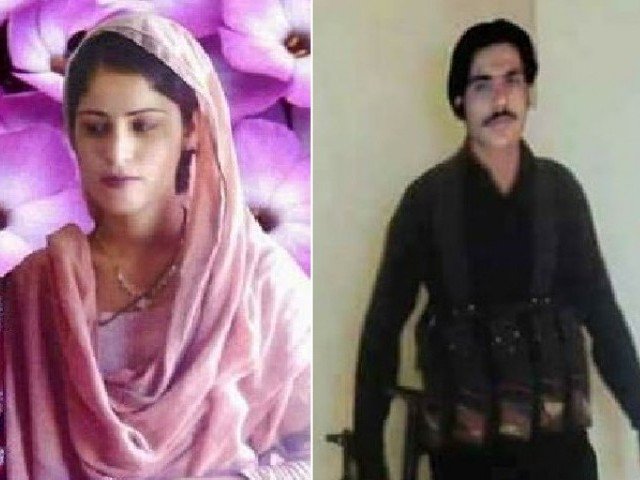 ---
HYDERABAD: Police have arrested the alleged murderer of a young woman, Tania Khaskheli, who was brutally killed in front of her parents in Jamshoro.

At a press conference on Monday, Hyderabad DIG Khadim Hussain Rind confirmed that Khan Muhammad Noohani alias Khanu, the main accused, and Moula Bux Noohani alias Moulu had been arrested.

Rind said police also recovered the weapon used in the murder. "The police conducted at least 50 raids at different places before arresting both of them from a place near Nai Baran in Kotri [a taluka of Jamshoro district]," DIG Rind said.

'Influential PPP man' still at large in Tania Khaskheli's murder case

Tania was shot dead in her house in the rural town of Jhangara Bajara on September 7. Her parents claimed that Khanu killed her because the family rejected his marriage proposal for Tania.

The Sindh High Court took on September 16 suo motu notice of the incident and ordered the Hyderabad DIG and Jamshoro SSP to appear before the court today (Tuesday), along with the investigation report.

SSP Rind said that the Section 6/7 of the Anti-Terrorism Act is being added to the FIR, which contained only sections 302 and 34 of the Pakistan Penal Code. The FIR was registered on the complaint of Tania's father, Ghulam Qadir Khaskheli, at the Jhangara police station.

Tania Khashkeli murder: SHC CJ seeks reports of investigation into teenage girl's murder

The Hyderabad DIG admitted that the local police showed negligence in handling the case, adding that the local SHO has been suspended for his inaction.

Responding to queries, the DIG avoided disclosing the names of the people who allegedly provided shelter to the accused during the last 10 days. However, he assured that police will disclose the names of these persons and may book them as well in the FIR at a later stage of the investigation.

The DIG said that Khanu's brother, Ashraf Noohani, is a wanted criminal who carries head money of Rs500,000. However, the police are still unaware if Khanu has a criminal record, he added.

He said the mobile phones of both the slain woman and the suspected murderer have been sent for forensic data retrieval. However, the DIG did not explain why the police were checking the mobile records.

Teenage housemaid found dead in Karachi's Defence

Sindh Inspector-General of Police Allah Dino Khawaja has announced a Rs100,000 reward for Jamshoro SSP Irfan Bahadur and Sehwan ASP Dr Sami Malik, who led the raids and are investigating the case.

Tania's parents demanded the government take action against Jhangra SHO Muhammad Ali Khaskheli. They accused him of allowing the accused to escape the town and for allegedly weakening the police's case. According to the DIG, the SHO has been suspended and ASP Malik is investigating his alleged connivance.
COMMENTS (2)
Comments are moderated and generally will be posted if they are on-topic and not abusive.
For more information, please see our Comments FAQ