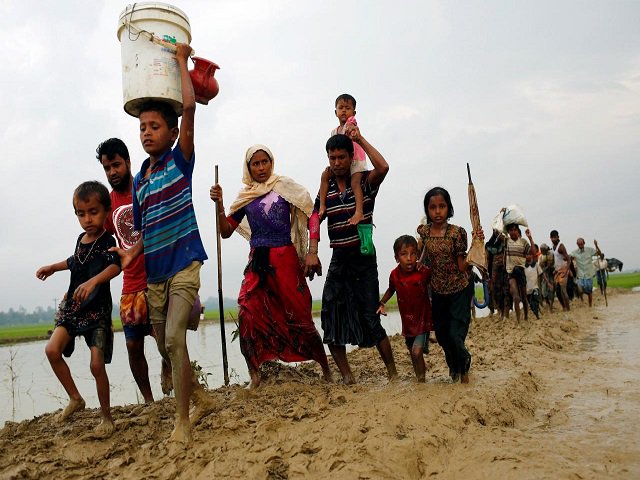 ---
ISLAMABAD: The government on Thursday condemned the "cold-blooded and callous genocide of innocent Rohingya Muslims, including women, children and even infants, under the direct patronage of state institutions of Myanmar".

The federal cabinet, in a meeting chaired by Prime Minister Shahid Khaqan Abbasi, passed a resolution stating that the brutal and barbaric acts perpetrated against the unarmed civilian population not only constituted state terrorism, but also questioned the collective human conscience across nations and societies.

These atrocities have also revealed the appalling hypocrisy of the democratic leadership of Myanmar, it said.

JUI-F to stage countrywide protests for Rohingya Muslims from Sept 8

"We call upon Nobel laureate Ms Aung San Suu Kyi to take immediate steps to stop the atrocities being committed in Myanmar where her party is in power. We also call upon the United Nations to take the lead, which it must under its mandate, in stopping immediately the genocide of Rohingya Muslims by Myanmar," the resolution added.

The cabinet also approved the ratification of an air services agreement with Belarus.

It granted approval, in principle, to begin negotiations for a memorandum of understanding (MoU) with Senegal for cooperation in the field of higher education and research, and for an agreement with Belarus on industrial, scientific and technical cooperation.

The federal cabinet approved proposals to amend the existing conventions with Finland, Italy and Turkey for "the Avoidance of Double Taxation and the Prevention of Fiscal Evasion with Respect to Taxes on Income", to upgrade the Article on Exchange of Information.

Plight of the Rohingya

A protocol amending the convention between the governments of Pakistan and Bahrain on the same subject was approved for signing.

The cabinet also approved the appointment of Justice Muhammad Saleem Jessar as Judge of the Special Appellate Court under Section 46(1) of the Prevention of Smuggling Act, 1977 in Sindh.

Earlier, chairing a meeting, Prime Minister Abbasi directed the Ministry of Commerce to work with the Sugar Advisory Board to come up with short- and long-term proposals for resolving the issues and problems faced by the industry.

The meeting was briefed on the growth of the sugar industry in the country, the government's role in its development, issues concerning the industry and support to it from the government.

UN expects up to 300,000 Rohingya refugees

Office-bearers of the Pakistan Sugar Mills Association informed the prime minister that total sugar production had witnessed a 125 per cent increase in 2016-17 as compared to 2009-10, while the increase in sugarcane growing area over the same period was 29 per cent.

According to the association, the economic impact of this growth was an increase in farmer revenues from roughly Rs95 billion to Rs325 billion annually.

The prime minister was informed that sugarcane had consistently been a viable crop for farmers.