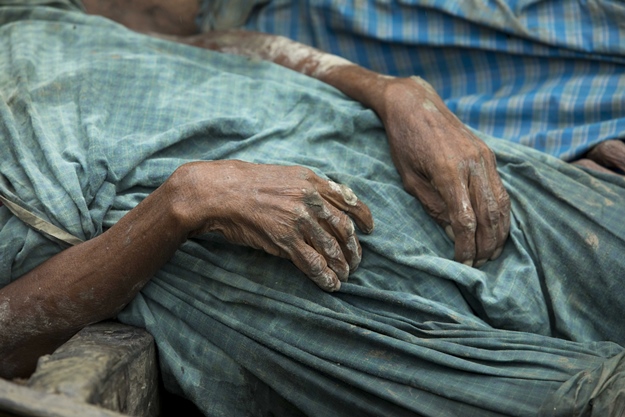 ---
DHAKA: Bangladesh summoned the Myanmar ambassador on Wednesday to protest the planting of landmines along the border, after a series of explosions maimed Rohingya fleeing violence in the Southeast Asian country.

It is the second time Dhaka has summoned the ambassador since an upsurge in violence in Myanmar's Rakhine state triggered a refugee crisis, with nearly 150,000 people flooding across the border in the last 12 days.

Refugees from Myanmar's Rohingya Muslim minority have lost limbs as they fled the country after apparently triggering landmines on the Myanmar side of the border.

During the meeting, Bangladesh officials "expressed concern at the reported laying down of anti-personnel land mine(s) close to the... border by Myanmar security forces", a statement from the foreign ministry in Dhaka said. Bangladeshi border guards have said they heard large explosions this week and seen refugees with injuries they say were caused by landmines.

Suu Kyi under pressure as nearly 125,000 Rohingya flee violence

One woman lost both her legs and had to be carried into Bangladesh, where she is receiving treatment. Myanmar has not commented on the reports of explosions.

On Wednesday its de-facto leader Aung San Suu Kyi said there was "a huge iceberg of misinformation" in her first public comments since the violence broke out on August 25.

One senior official in Bangladesh said Dhaka believed Myanmar government forces were planting the landmines to stop the Rohingya returning to their villages.

The Rohingya are denied citizenship in Myanmar, which regards them as illegal immigrants even though many have been there for many generations.

"We have information that they have planted landmines or explosives in the close vicinity of the Bangladesh-Myanmar border," the official told AFP, speaking on condition of anonymity.

Two killed while making landmine in Myanmar's Rakhine

"We have a video which shows what looks like a mine."
Bangladesh also used the meeting with the ambassador to protest the massive influx of Rohingya, after the United Nations said 146,000 refugees had arrived in the country since August 25.

There were already some 400,000 Rohingya refugees in Bangladesh, most living in squalid camps near the border that aid agencies say are now overflowing.

The latest violence has also hit Rakhine's Buddhist and Hindu populations with nearly 27,000 people displaced and fleeing in the opposite direction. Some say Rohingya militants murdered their kin.
Dhaka has repeatedly asked Myanmar to take back the Rohingya refugees and address the root causes of problem.