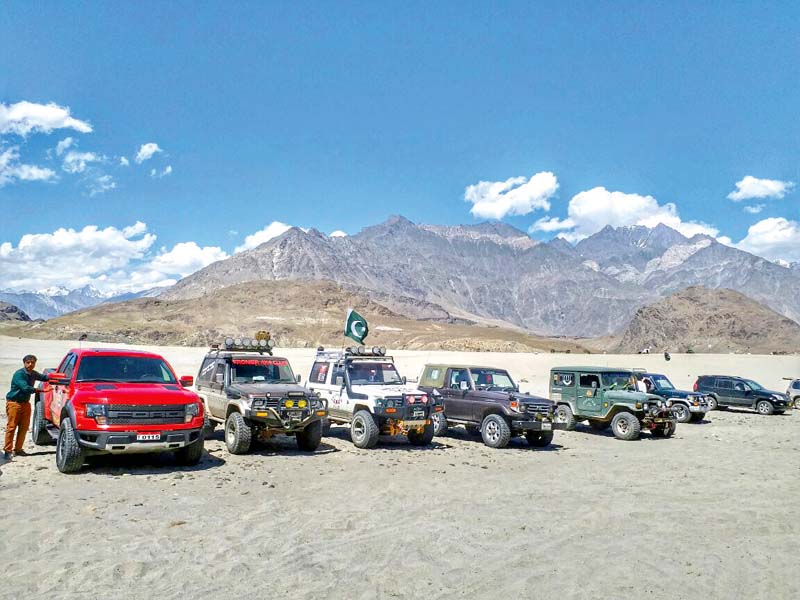 ---
SKARDU: At least 85 off-road vehicles and 25 bikes are taking part in one of the most gruelling treks in the world – the Sarfaranga plain.

Adventure buffs will challenge the rough terrain of freezing cold desert 7,500 feet above sea level leading to K-2 base and the Deosai National Park. With a prize money of Rs2 million to chase, the off-road riders will be required to cover a distance of 30 kilometres only, but the terrain is so arduous that the rally has been divided into phases.

"World cold desert jeep and bike rally will start from Sarfaranga, Skardu, from August 18 to 20, said Gilgit-Baltistan Secretary Establishment and Services Waqar Ali khan.

Ali, who is the focal person for arranging the rally, told The Express Tribune that Sarfaranga is a unique cold desert.

Arranging an international event will present soft image of the country and put on the map of tourist destination, he said.




Moreover, the cold desert rally will give a chance to show the cultural diversity of G-B and boost tourism industry in the region for economic benefit of the mountain communities, he added.

Ali said the rally will start from Bab Shigar at Sarfaranga and cover a distance of 30km. He told that rally is dived in different category where women will be encouraged to participate in it.

Sarfaranga is a barren swath dotted with sand dunes and swept by freezing tundra winds 7,500 feet above the sea level, he reminded.

The desert leads to K 2 and Deosai Natural Park.

Ali said that 80 jeeps and 25 bikes will participate in the rally and the G-B government has set up a tent village to hoist the drivers and crew and the tourists coming to enjoy the rally.

The tent village has been set up on bank of Indus River some 20km from Skardu, Ali said. During their stay at the tent village tourist, will have the chance to catch trout fish and enjoy rafting in river.

Meanwhile Baltistan Commissioner Asim Ayub told the media that all arrangements for the peaceful and smooth conduct of the first ever four-day rally have been completed.

He said that 200 drivers and special vehicles from the country and abroad have started reaching  Baltistan for the rally.

The basic aim of the rally is to highlight the scenic and mountainous beauty, cultural heritage, centuries old traditions, handicrafts and hospitality for which G-B was famous.




As per the programme, a tent village was being established at Jarba Tso for the rally's first phase.

During the rally, a freestyle polo match would also be held besides various cultural programmes and events. The commissioner said the rally would help generate employment opportunities besides promoting tourism.

Gilgit Baltistan Chief Minister Hafiz Hafeezur Rehman, Commander FCNA and other special guests were invited to attend the rally.

Published in The Express Tribune, August 18th, 2017.