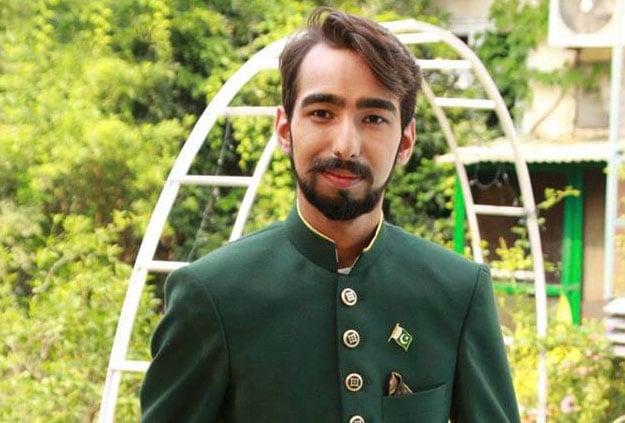 ---
What is the one thing that unites all Pakistanis, regardless of our political, ethnic or economic divisions? Our cricket team.

They are the heroes we can all agree to celebrate. We may hate to love Afridi's all or nothing batting swagger or love to hate Misbah's tuk tuk. But, at the end of the day, despite our differences of opinion, we realise we're batting for the same team.

This is not necessarily true of other heroes in Pakistan. One man's hero is another man's traitor, whether it is Malala Yousafzai, Imran Khan or Sharmeen Obaid Chinoy. We label these men and women as heroes or zeros, depending on the political, social and religious lens through which we view the world. We often forget that we are still batting for the same team: Team Pakistan.

A visual glimpse into the life of an extraordinary Pakistani

Having said that, there are many unsung extraordinary Pakistanis, we all can agree to, cherish this Independence Day. Let us take a moment to toast them together:

Neha Mankani: The wonder woman behind the 'Mama Baby Fund'




"I don't have money to bury my own baby," shared a new mother, who lost her baby due to complications at birth. When Neha Mankani, a LUMS graduate-turned-midwife, heard stories like these at the hospital every day, she realised that something had to give.

"With the 'Mama Baby Fund', I often meet people who are in very desperate situations because of unanticipated emergencies," shares Neha.

"Two moments that stand out: One morning, I walked into the labour room and asked an old woman to bring breakfast for her daughter who was in early labour and she said she couldn't as she didn't have money for it right now. The second moment (the story that prompted the start of the fund) occurred when I was working in the nursery and we drew blood from a sick baby for a blood culture test. I gave the sample to his grandmother who brought it back after 10 minutes and said, it costs too much and she emptied her pockets and she only had Rs5."

"She told me", Mankani continued, "to keep the sample while she tried to arrange the money overnight and that's when I decided some kind of emergency fund needed to be in place."

The pride of nation: Pakistani cartoonist bags new world record of longest comic strip

Dr Abdul Bari Khan: The man behind the team at Indus Hospital




"I saw the suffering of the people first hand at Civil Hospital," shared Dr Abdul Bari Khan, one of the many silent angels quietly holding Karachi together.

After witnessing the suffering of the patients post-twin bomb attacks in Karachi during 1986, Dr Bari and his friends at the student-run Patient Welfare Association decided to take matters into their own hands.

They pledged their support to make a difference to the healthcare situation in Pakistan, and as their efforts came to fruition, The Indus Hospital officially began operations in the year 2007. It was the country's first paperless and 100 per cent cashless, state-of-the-art, tertiary care hospital. All medical services including high-end surgical procedures were provided indiscriminately to everyone in need, free of cost.

Aakif Azeem: A brave APS attack survivor




"He shot at me seven times," shares Aakif Azeem, as he revealed a play-by-play account of the school day, which changed his life forever.

"I was in the toilet at around 10:30 am when I first heard gun fire. There's a marriage hall near our school, so I thought the firing might be coming from there. But, within a minute or two, the firing got louder. When I stepped out of the toilet, I saw him for the first time. He was wearing a blue shalwar kameez, a brown sweater and a cap. He had an AK-47 in one hand and a pistol in another. I tried to run for cover behind a pillar and he shouted in Pashto asking me to stop. I knew that was the end of it. I froze with fear."

Pakistani kid 'kicks' his way to a world record

"I lost my best friends that day," shares Aakif. "My best friends aren't with me anymore so I have to live out their dreams and lives too. If humanity has lost its way, we have to restore it. We have to become their voice. No one else will come to our rescue."

Muniba Mazari: Championing the rights of Pakistan's disabled community




"The driver slept and my car fell into a ditch," shared Muniba, while recalling the accident that would change her life.

"When the driver jumped out of the car, I believed I was going to die. My first thought was I'm 21 and I've done nothing with my life. I've never lived for myself. I spent my life studying hard, instead of becoming the artist I wanted to become. I was only 18 when I got married… I lost consciousness after the car toppled and my backbone was crushed. After taking me out of the ditch, I was put in a Potohar Jeep, as there weren't any ambulances nearby in Balochistan. I asked people where my legs were. They said, "They are right here." I was very composed. "I didn't cry."

At the hospital, I told the doctors, "I'm half paralysed, I can't feel anything." I was in severe physical pain, but I didn't cry even then.

Today, Muniba is an accomplished artist, works two jobs, is a single mother of an adopted son (who completes her life) and has represented Pakistan in the prestigious Forbes 30 under 30 list of top promising young leaders. She is also a UN Goodwill Ambassador for women to advance gender equality and the empowerment of women and girls. Her message for Pakistan on behalf of disabled people is worth spreading on social media: "Before you 'dis' our ability, always remember that a person who is differently abled only needs your empathy, not your sympathy!"

Pakistani martial artist makes world record by crushing 77 cans with his elbow

Imran Shaukat: Son of a housemaid, student extraordinaire at IBA




"My mother works as a domestic servant," shared Imran Shaukat, a student at the Institute of Business Administration (IBA).

Imran lives in Orangi Town in Karachi. His father is a construction worker but was forced to quit his job because of an asthma problem. Imran's mother currently works as a house help to support her family and children's education.

"My mother isn't educated herself but it was her dream to see her children educated," said Imran. "She understands that in our society only educated men and women get respect. My life is now dedicated to making her dream come true."

"I always wanted to get educated," revealed Imran's mother. "I wanted to become a doctor and contribute to society, but my father didn't want his daughters to go to school. I wash dishes now but I want my children to have a better future."

This is a remarkable story about the power and resolve of a woman wanting to see her children educated and the universe conspiring together to make her dream come true. "I want to do my Masters from MIT or Stanford," said hopeful Imran.

"Then, I'd like to open my own software house or company. I've learned that one should never lose hope in life. One should continue working hard and believe in oneself. If you have the will power, there's nothing you can't do."

Even in our darkest moments, the lives of these men and women are a window into the best qualities Pakistan offers to the world: kindness, determination and resourcefulness. Let us celebrate the extraordinary men and women, who make Pakistan the most beautiful, broken country in the world.

M Bilal Lakhani is a freelance journalist.
COMMENTS (4)
Comments are moderated and generally will be posted if they are on-topic and not abusive.
For more information, please see our Comments FAQ