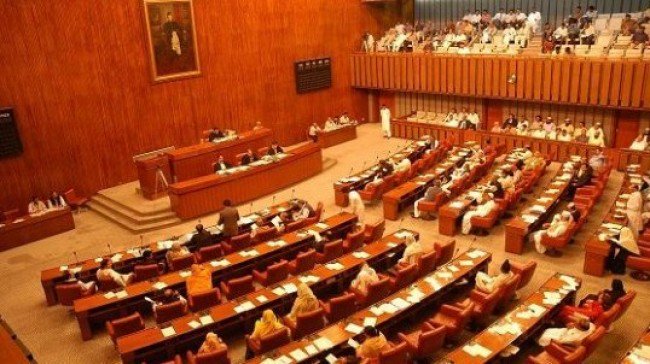 ---
ISLAMABAD: Senators representing different parties have called for an across the board accountability system which should include keeping a check on judges and military personnel.

On first day of opposition-requisitioned session, senators came down hard on the ruling party particularly former prime minister Nawaz Sharif who was disqualified by the Supreme Court late last month.

Senate debated on measures to combat corruption, with focus on offshore companies, across the board accountability and a new accountability mechanism.

Taking part in the discussion PPP's Farhatullah Babar said that a historic opportunity had presented itself before the bipartisan Parliamentary Committee on Accountability comprising members from both treasury and opposition benches to call a spade a spade and make anti-corruption legislation that applied to all strata of society.

'Accountability must not stop with Nawaz'

No accountability mechanism will arouse any credibility unless it also brought under its ambit the judges and general that have traditionally been treated as sacred cows, he added.

He said that the parliamentary committee had agreed on all sections of draft legislation and only the clause pertaining the definition of holder of public office remained to be sorted out.

"If the bipartisan committee fails in giving the nation an across the board accountability mechanism then no one else but Parliament will only have itself to blame," he said.

Opposition Leader Barrister Aitzaz Ahsan alleged that Nawaz had played a role in dismissal of three elected governments in collusion with the army and the judiciary.

He asked Nawaz to admit it before the nation, if he does not apologize.

COAS calls for holding public officeholders accountable

"Nawaz had a role overthrowing the government led by Benazir Bhutto twice, and in the disqualification of another prime minister Yusuf Raza Gilani."

He also asked the PML-N to explain who they were protesting against.

"Is this a protest against the federal or provincial governments, or the judiciary or the army?" he questioned.

The PPP senator said the government should bring a law for accountability of judges and generals in parliament. "If you are helpless, tell us who is preventing you to do this", he asked.

In regards to the objections raised on the disqualification he said surfacing of a document was in itself a matter of shame for the entire nation. He said more investigations were required on the iqama issue and observed that the Supreme Court played soft on Sharif.

"Nawaz should have been the main accused in record tampering case made against suspended SECP Chairman Zafar Hijazi," he added.

Parliamentary leader of PPP in the Senate Taj Haider observed that the third world would never make progress till the time the offshore companies exist.

Calling for across the board accountability, he said in the first phase, politicians should present them for accountability. He said ruler of the country should have unblemished character and supposed to answer questions posed by any citizens.
COMMENTS
Comments are moderated and generally will be posted if they are on-topic and not abusive.
For more information, please see our Comments FAQ