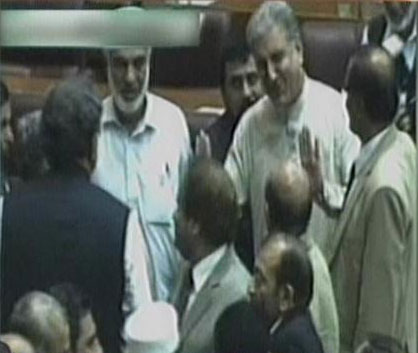 ---
Defeat is a bitter pill to swallow, but Pakistan Tehreek-e-Insaf (PTI) leader Shah Mehmood Qureshi seems to have taken it too far by apparently refusing to shake hands with newly-elected prime minister Shahid Khaqan Abbasi.

At the end of the National Assembly session on Tuesday wherein Abbasi was elected the new premier, he is seen tugging at Qureshi's shirt to grab his attention so that they could shake hands.

Qureshi turns around and a few words are exchanged between the two leaders.

Shahid Khaqan Abbasi elected new PM

Then the PTI leader holds back his hands, outright refusing to shake hands with Abbasi.

'Silent protest'

Meanwhile, Shah Mahmood Qureshi said he did not shake hands with Shahid Khaqan since the latter was representing someone [PM Nawaz] who had been disqualified by the top court.

"This was the reason I refused to shake hands with Shahid Khaqan Abbasi, otherwise, I have no personal enmity or even a grudge against him," Qureshi said while talking to Express News.

When asked why his act should not set a bad example of a political norm, Qureshi said he has only held a principled stance at what was happening in the Assembly's session.

According to him, "PML-N supporters tore apart norms of the parliament by creating a ruckus in the House, raising slogans and displaying banners of the disqualified premier and that was all against the code of conduct of the Lower House."

All I could do, Qureshi continued, was to register a silent protest against all that was at play, with the Speaker being unable to stop it.

Abbasi, the former petroleum minister, secured 221 votes against Pakistan Peoples' party's Naveed Qamar's 47 and Sheikh Rashid's 33. Jamaat-e-Islami's Sahibzada Tariqullah managed to secure only four votes.

The election came three days after former premier Nawaz Sharif was disqualified and made ineligible to hold public office by the Supreme Court for hiding assets in his nomination papers for the 2013 general elections.

The real impact of Nawaz Sharif's disqualification

Qamar was contesting from the Pakistan People's Party, Awami Muslim League leader Rashid was the Pakistan Tehreek-e-Insaf's candidate, also backed by the Pakistan Muslim League-Quaid. The Muttahida Qaumi Movement, following a meeting with the PML-N leadership, had pulled out its candidate, Kishwar Zehra, and announced that it would support Abbasi.

The Jamiat Ulema-e-Islam-Fazl, being an ally of the ruling party, was supporting the PML-N candidate, whereas the Awami National Party abstained from the election process on account of the opposition's lack of consensus.

Essa Noori, the lone MNA from Balochistan National Party-Mengal, also did not cast his vote.

Abbasi will remain the PM until Punjab Chief Minister Shehbaz Sharif runs for NA-120, Lahore, the seat left vacant after Nawaz's disqualification, and then take over as the new 'permanent' premier until the 2018 polls.