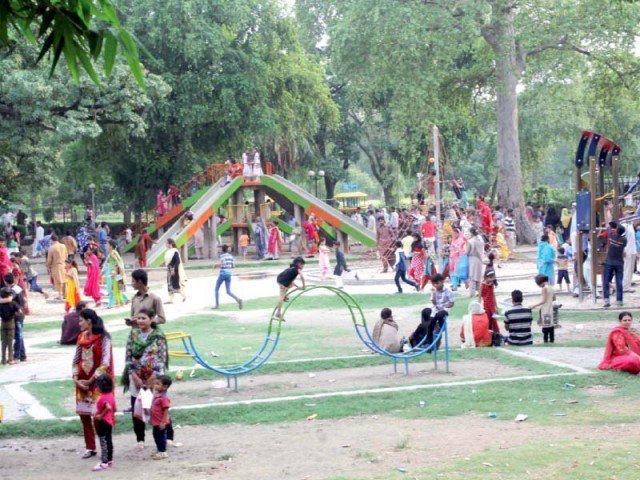 ---
LAHORE: Lahore Development Authority (LDA) has initiated the process to build 'Walk n' Shop Park' in Muhammad Ali Johar Town.

Project proposal documents indicate the park will be built over an area of around 120 kanals with shops, a park, children arcade and allied facilities.

The authority has already invited Requests for Proposals (RFPs) to hire a design and construction supervision consultant.

The prospective consultant will be responsible for master planning, preliminary and detailed designs of the infrastructure and other facilities, working drawings, draft tender documents, engineering cost estimate and detailed bill of quantities. In the next phase, the consultant will undertake resident construction supervision for civil works of the project.

People in K-P head to parks, picnic spots in festive mood

According to LDA, the consultant will also carry out all the surveys and site investigations, including detailed topographical survey to determine and record the exact layout of site and adjacent areas (roads, structures, etc), water channels, physical features, site levels, location of existing roads, boundary limits, services (above and belowground), existing structures and all other pertinent information relevant to the project site.




It will also prepare project execution strategy, budgeting and time schedule limitations.

After completing data collection, the consultant will submit a data collection and analysis report, having complete analysis of collected information, project delivery approach or implementation strategy with recommendations for timely completion of the project. It will also prepare and submit samples of advanced architectural design and sketches for the city developer's review and approval.

In the second stage, documents highlight, the consultant will prepare detailed designs to define the project in terms of master plan, building layouts, interior and exterior finishes and design of electrical, plumbing, telephone, networking, CCTV, firefighting and HVAC systems. It will also accommodate necessary environmental considerations during this stage.

Following the approval of the detailed design from the authority, the consultant will prepare and submit final designs and tender documents and final bills of quantities.

Development schemes: Punjab govt allocates Rs1.2 billion

The consultant will evaluate prequalification documents, technical and financial offers of bidders and submit its report to the authority. It will assist the LDA at all stages of deliberations and negotiations with bidders.

Upon successful tendering process, the project site will be handed over to engineering firm for construction and the consultant will prepare final designs after incorporating revisions proposed by the LDA. It will deploy necessary supervisory staff to monitor the quality and progress as per the approved plans.

Speaking to The Express Tribune, the LDA spokesman said the envisioned Walk n' Shop Park would be built in B-II block of Muhammad Ali Johar Town, near Model Bazaar and Mian Plaza.

He said the authority was also doing pre-qualification of contractors for the project. "The precise timeline for completion of the project will be decided after designing and tendering process," he concluded.

Published in The Express Tribune, June 30th, 2017.