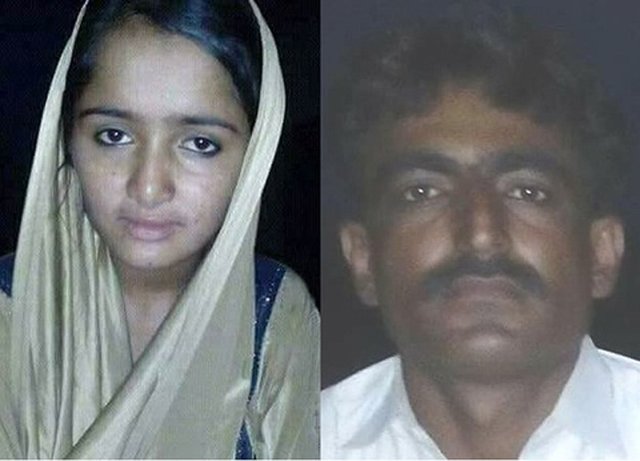 ---
HYDERABAD: The Sindh High Court (SHC) ordered police on Monday to bring Ravita Meghwadh — a girl who her family says is underage and was abducted, forcibly converted to Islam from Hinduism and then married off to a Muslim man — before the court on June 22.

The directives to the DIG Mirpurkhas and the SSP Tharparkar were issued by an SHC bench headed by Justice Salahuddin Panhwar.

The girl's father, Satram alias Satio Meghwadh, in his petition filed through Advocate Bhagwandas, told the court that his daughter, who was 16 years old, had been illegally married off to a Muslim man.

Ravita, who belongs to a village in Nangarparkar, Tharparkar district, reportedly converted to Islam at a khanqah in Samaro taluka of Umerkot district on June 6.

Hindu underage girl 'forcibly converted and married off' in Tharparkar

She was renamed Gulnaz after the conversion. The same day she married 36-year-old Syed Nawaz Ali Shah at the marriage registrar's office in union council Gulzar Khalil in Samaro.

Satram told the court that his daughter was born on July 14, 2001. The lawyer in the petition maintained that under the Sindh Child Marriages Restraint Act, 2013, the marriage of anyone under 18 was a punishable offence.

The marriage registrar has mentioned Shah's year of birth as 1980, and national identity card number on the marriage certificate, but Ravita's age has been written as "approximately 18" and her NIC number is not mentioned. Similarly, the certificate of conversion to Islam also does not mention her date of birth and NIC number, listing her age as "approximately 18".

Pakistan Hindu Council appeals for suo motu notice of increasing forced conversions

"She was abducted from her house and forcibly married to a man twice her age," said Satram, who lodged the FIR of the kidnapping at Nano Dandal police station in Nangarparkar, Tharparkar four days ago.

The FIR lodged under Section 365-B of Pakistan Penal Code, which deals with kidnapping to compel a woman to marry against her will, names four people: Shah (the husband), Madad Ali Shah, Umar Junejo and Sheru Junejo.

Shah and Ravita had earlier filed a petition in the SHC, requesting protection and accusing the girl's parents of issuing death threats.

A day earlier, the Pakistan Hindu Council had appealed to the Supreme Court to take suo motu notice of the rise in kidnappings, forced conversions and forced marriages of underage Hindu girls to Muslim men in Sindh.
COMMENTS
Comments are moderated and generally will be posted if they are on-topic and not abusive.
For more information, please see our Comments FAQ