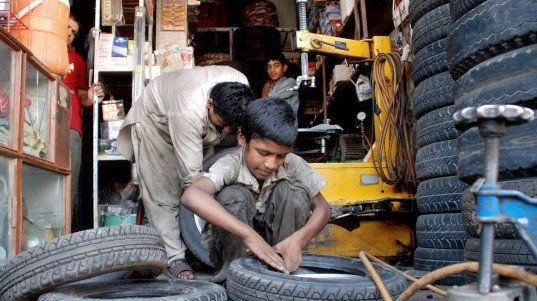 ---
LAHORE: Child Rights Movement (CRM) Punjab had strongly urged the government to take action against child domestic labour and prevent children from economic exploitation, violence and abuse.

During at a conference at a local hotel on Friday, it was stated that laws enacted in 2016 were not fully aligned with Pakistan's international obligations under the United Nations Convention on the Rights of the Child, the International Labour Organisation's (ILO) Convention No 138 and 182 as well as Sustainable Development Goals' (SDGs) target 8.7.

The movement called on the global community to take immediate and effective measures to eradicate forced and/or child labour by the end of 2030.

World Day against Child Labour: Baby steps needed to eliminate child labour

Child Rights Activist Iftikhar Mubarik said many children in Pakistan were victims of bonded labour, trafficking and sexual exploitation. He said even though many systems had been set up, authorities lacked the capabilities to reach and protect the children.

He added the issue needed to be addressed at the earliest and required an integrated approach with multiple stakeholders.

CRM Punjab Provincial Coordinator Rashida Qureshi shared the UN Committee on child rights recommended, in 2016, that Pakistan establish mechanisms for the systematic monitoring of workplaces where children were employed.

The committee urged development programmes to identify and protect victims of bonded child or domestic labour.

Rashida demanded the government take serious action to tighten inspection systems.

She also urged the provincial government to provide the required financial and human resources to the labour department to establish an effective inspection system.

The CRM coordinator stressed on the launch of media campaigns to promote child labour laws and ensure a trickledown effect to the masses, especially children.

World Day Against Child Labour: Issues of children grossly neglected, says Aziz

According to expert Iftikhar Ahmed, the Labour Force Survey (LFS) 2014-15 revealed that 3.042 million children from 10-17 years were in employment in Punjab. He said out of this age group, 68% were boys, while 80% of the total number of children came from rural areas.

Iftikhar urged the Labour and Human Resource Department to notify the rules of child labour related laws to ensure their better implementation.

Human Rights Commission of Pakistan Chairperson Mehdi Hassan said the issues of vulnerable segments of society should the top priority of the government.

He urged a nationwide survey to assess the magnitude of child labour.

Iftikhar suggested the survey should include domestic and other informal sectors of labour.

Rao Khalil, a member of the Child Protection and Welfare Bureau (CPWB), shared that his department rescued 60 children who were experiencing severe torture at the hands of their employers.

Published in The Express Tribune, June 17th, 2017.
COMMENTS
Comments are moderated and generally will be posted if they are on-topic and not abusive.
For more information, please see our Comments FAQ