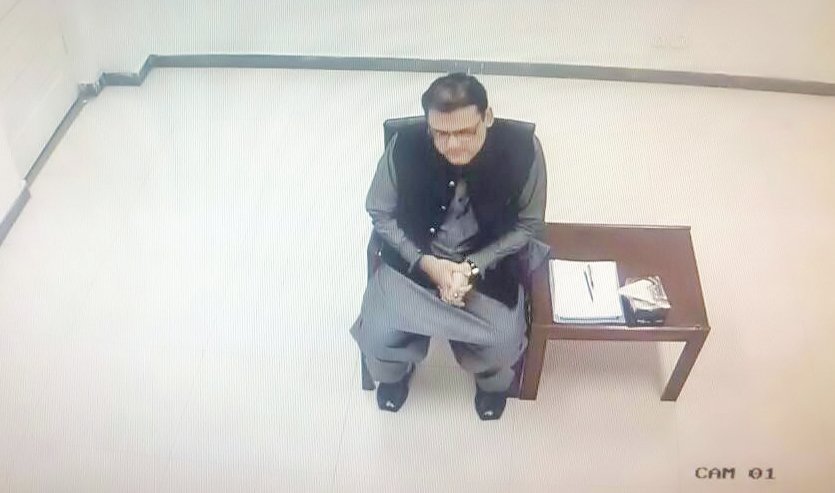 ---
ISLAMABAD: Opposition in the National Assembly on Monday questioned the motives behind the photo leak of Hussain Nawaz while being quizzed about the Sharif family's offshore assets by the joint investigation team (JIT), claiming it was a 'deliberate move' on behalf of the government.

Since the building of the Federal Judicial Academy is managed by the law ministry and its security rests with the Ministry of Interior, the opposition questioned as to how such an inside leak could have been made possible?

The question was raised during a sitting of the National Assembly on Monday.

Hussain Nawaz's leaked photo reeks of vengeance: Marriyum Auranzeb

Clarifying the allegations of deliberately leaking the photo of prime minister's son Hussain, a Ministry of Interior spokesman said, "A political party has put the responsibility of the leakage of the photo on the ministry, which is baseless and ridiculous."

In a statement, the spokesman said the external security of the judicial academy was the job of Islamabad police, while the interior ministry/Islamabad police had no role in administrative matters of the academy.

Any department or institution of the interior ministry, including the Islamabad police, had 'no' access to the offices, JIT and its proceedings or film making, the statement added.

JIT grills Hussain again for three hours

On the other hand, Pakistan Tehreek-e-Insaf Central Information Secretary Shafqat Mehmood said, "PML-N staged the whole drama in a bid to sabotage fair investigations being conducted by the JIT."

In a statement, Mehmood said it was not the first time as PML-N had recently made similar efforts in the past to make the JIT controversial in a bid to pressure the team members probing the Sharif family's offshore assets.

Mehmood alleged that the PML-N's media cell – which in the past maligned the country's armed forces - is behind the picture leak.

He said according to PTI's investigations into the matter, Hussain's photo was first shared through 'fake' social media accounts allegedly associated with the PML-N's media wing.

Hasan, Kayani testify before JIT

Opposition leader Syed Khursheed Shah questioned as to who controlled the building in which JIT is holding its investigation?

He said the law ministry owns the building while the Ministry of Interior is responsible for its security.

He said the government wants to take the situation to the point of clash so that it may claim it was victimised. Even the country's sovereignty is in danger. Seven Muslim countries severed relations with Qatar as they claim that the country in question is sponsoring terrorism while the matters in Pakistan are relying on Qatri letter.

He said Pakistan - the only Muslim nuclear state in the world - is facing threats not only from outside but from inside as well.

Shah said if the government removes the blindfolds and cotton buds it would see everything clearly and listen wisely.