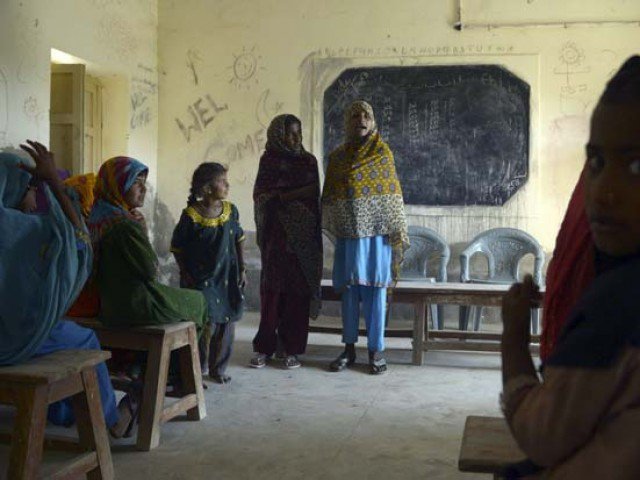 ---
LAHORE: Despite a steady increase in the development budget of schools in Punjab, the provincial government was able to spend only half of the allocated amount in the fiscal year as of April 30, 2017.

According to a summary of the development budget expenditure in the current fiscal year, the Punjab government has spent a little more than 52.56% of the total amount for the education sector. The summary of the Punjab Finance Department details expenditures up to April 30, 2017 of the development budget allotted in the budget of fiscal year 2016-17.

Documents available with The Express Tribune revealed that around Rs63.01 billion were allocated in the development budget under Education Affairs and Services. The document also provides an estimated expenditure until April, 2017, according to which a total of Rs52.51 billion were expected to be spent. However, the provincial government only managed to spend Rs33.12 billion until April, 2017.

The document breaks down the total development budget into four different heads for Pre and Primary Education Affairs and Services with a total development budget of Rs1.88 billion and expected expenditure of Rs1.56 billion. Just Rs354.292 million was amount spent until April, 2017. For the Secondary Education Affairs and Services, Rs47.29 billion had been allocated, with an expected expenditure of Rs39.41 billion and the spent amount stood at Rs22.33 billion.

Scant raise: Religious affairs ministry budget raised by 6%




For Tertiary Education Affairs and Services, Rs13.16 billion had been allocated with an expected expenditure of Rs10.96 billion with Rs10.28 billion spent. For Education Services Non-definable by Level, Rs669.013 million had been allocated with Rs557.511 million expected to be spent by April, 2017. However, only Rs148.593 million was spent.

A similar trend has been seen in previous years during which the Punjab government failed to utilise the allocated budget for development. According to the annual budget documents also available on the Punjab Finance Department's website, for the fiscal year of 2014-15, Rs25.968 billion were allocated for school education, but only Rs19.653 billion were spent. Similarly, for the fiscal year 2015-16, a total of Rs32.849 billion were allocated for schools in the development budget, while only Rs13.926 billion were spent and reported in the revised expenditure for the fiscal year.

Associate Professor of Economics at Lahore University of Management Sciences (LUMS) and Senior Research Fellow at the Institute of Development and Economic Alternatives (IDEAS) Faisal Bari said the problem lay in the system whereby budgetary allocations were not released on time and were delayed in bureaucratic circles and the departments involved. With all the built-in delays in the system, a lot work remained incomplete. He said another problem was that government officials remained hesitant to spent money because of the lengthy mechanisms in place to account for funds spent. "An overhaul is needed in the government system with devolution of the decision-making process."

Budget tracker mobile app launched 

Other problems Bari pointed out were that the government announces projects in the budget for political reasons, but did not intend to implement them. Because of such projects, he said, funds remained under-utilised. Another reason, he said, was reappropriation of funds, especially in the education budget.

"There is a need to increase the education budget even if we don't have the capacity to spend the whole amount. Even with the argument that we have been unable to spend the allocated budget on education, we need to increase the capacity and fulfill the constitutional responsibility of Article 25-A and our international commitments of Sustainable Development Goals (SDGs)," Bari said.

When contacted for comments, Punjab School Education Minister Rana Mashhood said he was attending a ceremony in Multan and would be able to comment later. He was contacted several times subsequently, but did not respond.

Published in The Express Tribune, May 27th, 2017.
COMMENTS
Comments are moderated and generally will be posted if they are on-topic and not abusive.
For more information, please see our Comments FAQ