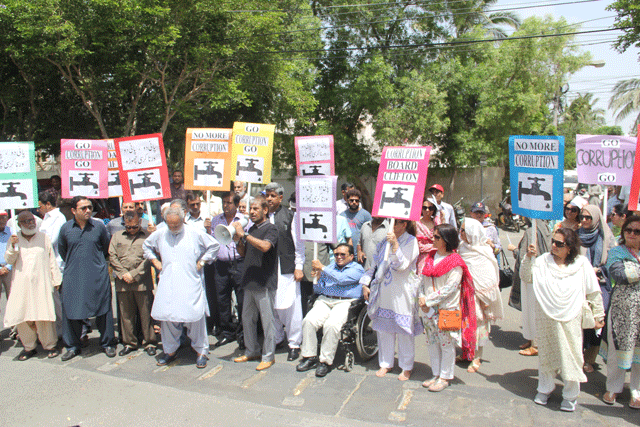 ---
KARACHI: Residents of Defence Housing Authority (DHA) and Clifton (CBC) staged yet another protest outside the Cantonment Board Clifton (CBC) office, demanding supply of water in the area through the water lines.

Led by Najeeb Wali, former vice-president of CBC, the protesters gathered outside the office Thursday morning. Holding placards that read 'End to Corruption', 'Supply Water' and 'Either Provide Water or Resign', the protesters shouted slogans against the authorities.




Pakistan Tehreek-e-Insaf MPA Khurrum Sher Zaman also joined the protesters. He was of the view that since water is a basic right, the residents must get it. Zaman added that all the protesters are taxpayers yet they are forced to protest for their rights. He criticised the provincial government for not taking any constructive measures to increase the supply of water to the city.

DHA residents cry foul over water crisis

Former CBC Vice-President Wali said that the residents are paying thousands of rupees in taxes. "Yet we are forced to buy water from the tanker mafia," he said, adding that a 3,000-gallon tanker cost Rs5,000 while four to five tankers are required to fulfil the demand of a single house. "If the elected representatives of CBC cannot provide services to us against of our taxes, they should immediately resign."

Talking to The Express Tribune, resident Muhammad Sohail wondered if posh areas have to suffer from such scarcity of water, how people would be surviving in the impoverished areas of the city. He added that the local representatives of the areas, be they MPAs or MNAs, join the residents in the protests for photo sessions. "We are sure they are getting water at their homes," he said. "They were elected by us yet they have done nothing for our issues."

Sania Shehbaz, a resident of DHA Phase VI, said that they are spending around Rs180,000 on water besides the taxes they pay to CBC. "How could this be justified?"

No water shortage in Karachi, claims KWSB head

She mentioned that things are worse in the newly developed Phase VIII, where even water pipelines have not been laid. She added that this is because the authorities are determined not to supply any water to the residents so that tanker mafia can earn more money.