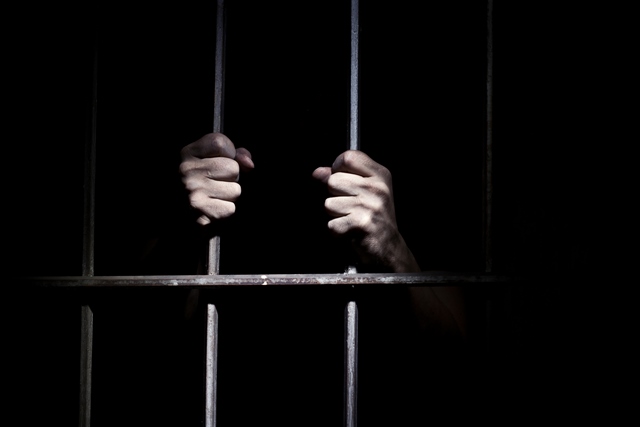 ---
KARACHI: A cloud of dust trailed behind an ambulance carrying the body of an elderly woman, Sameena Arif, as it slipped through the half open iron gate, painted in the distinctive red and blue police colours.

The body lying in the Edhi ambulance belongs to the mother of a young man, Waleed Kamal, a worker of the Muttahida Qaumi Movement (MQM) who has been incarcerated for his alleged involvement in the murder of a Sunni Tehreek sector incharge in Gulistan-e-Jauhar. The body was brought to Karachi Central Jail for a son to take a last glimpse of his beloved mother.

Kamal has been jailed for almost two years now. According to the prosecution, he was arrested by the Sharae Faisal police initially on charges of possessing an illicit weapon. He was later implicated in the murder case, which before his arrest, remained a blind one.

Give us political space, demands MQM-Pakistan

The family, however, say Kamal was taken into custody by the Rangers from the Super Highway when he and a dozen others, most from the MQM, were heading to Hyderabad to attend a friend's wedding in July 2015.

Almost all the persons arrested were later released except Kamal, who remained 'missing' until he was presented in an anti-terrorism court by the police three to four months later. They claimed he was arrested the day before.

"Regardless of whether he was involved in the crime or not he should have been allowed to attend his mother's funeral," sobbed Kamal's friend at the graveyard in Gulistan-e-Jauhar's Block 19 where Arif was laid to rest.

He said that she had been suffering from cancer for the past few years and in her final moments had longed to meet her youngest son. Tragically, the two could not meet as she was not well enough to go through the painstaking and draining process of meeting a prisoner at the jail and her son was denied bail.

MQM-H chief asks Zardari to stop politicising Rangers issue

The woman breathed her last early Wednesday morning. Subsequently, the family moved the home department seeking permission for the inmate to be released from jail for a stipulated period of time to attend his mother's funeral. The request was denied.

Kamal's elder brother accompanied their mother's body to jail. People who spoke to him said he told them Kamal wept profusely, in a heartrending scene, as he gazed at his mother's body. He collapsed near the body as he lost control of his legs, folded his arms around his mother and wept like a child.

Central Jail Superintendent Raja Mumtaz said a prisoner could not be released to attend the funeral of their immediate relative without the permission of the authorities. However, he said, the dead could be brought to the jail.

Dawood Narjeo, Kamal's attorney, lamented over the authorities' behaviour and said he felt sorry for the boy who could not attend his mother's burial. "I wish that the people in power could understand what Kamal has been through in this situation."

Army asks citizens to assist Rangers in eliminating terror from Punjab

Kamal's acquaintance, Farhat Abbas, expressed anger at the authorities. "I have known this boy since he was a kid and can testify that he was never involved in any criminal activities. His only sin seems that he was affiliated with the MQM," he spat.

Abbas said the MQM was not a party comprising angels and that he, personally, hated that they have criminal elements on board. "But, this does not mean everyone associated with the party is a criminal. The authorities should consider what hate they are sowing in the hearts of these young people of the city," he warned.