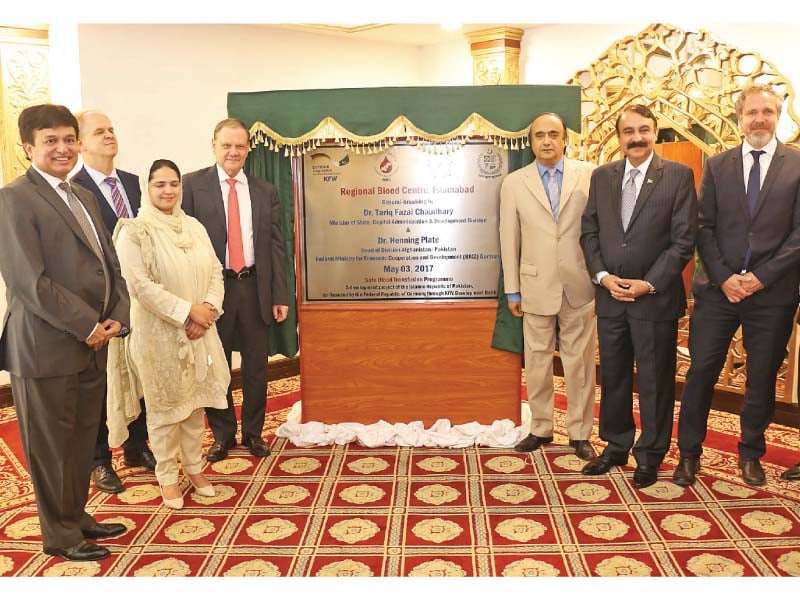 ---
ISLAMABAD: Residents of the capital requiring safe blood and blood products got good news on Wednesday after the foundation for a new, central blood bank was laid in the capital.

Minister of State for Capital Administration and Development Division (CADD) Dr Tariq Fazal Choudhry broke ground for the Islamabad Regional Blood Center in a ceremony.

Located on Park Road in Chak Shehzad, the centre is being built with support from the German government - through the KFW-German Development Bank - worth to Rs175 million (1.6 million Euros). The centre is expected to be built and start functioning within 12 months.

Substandard blood kits: Seeking transfusion, children leave with HIV

At the groundbreaking ceremony, Dr Henning Plate - head of the Afghanistan-Pakistan Division at the German Economic Cooperation and Development Ministry, hoped that the German-funded centre would herald a new era of blood safety in Pakistan.

KFW Country Director Wolfgang Moellers also expressed his delight over the centre which was part of Phase II, initiated after the successful commissioning of Phase-I regional blood centres in Gilgit-Baltistan, Khyber-Pakhtunkhwa, Balochistan and Punjab.

Dr Chaudhry urged locals, especially the youth, to donate voluntary blood on a regular basis to sustain the new centre.

Professor Hasan Abbas Zaheer, the project director for the Safe Blood Transfusion Programme, said that the facility would serve as a model blood centre in the country and would fulfil the blood needs of the capital and its surrounding areas.

Describing the facilities at the centre, he said that it would function as a procurement and distribution centre with systems to regulate all activities including mobilisation and retention of voluntary blood donors, maintenance of a donor database and collecting blood. Moreover, the centre would centralise blood processing, screening, testing, before storing the prepared components.

He added that the entire centre would be computerised as per international models and standards.

Operating illegally: 450 blood banks closed

Asked about existing blood banks in hospitals, Prof Zaheer said that they would be functionally remodelled and converted into storage centres to provide patient-oriented hospital transfusion services, compatibility testing and haemovigilance.

Moreover, he said that private and non-governmental hospitals will also be provided with blood components by the new centre.

Currently, 20 hospitals and blood banks have been screening and providing blood directly to the patients that are against the international practices, he said.

The Islamabad centre is among the 15 regional blood centres (RBCs) being developed and upgraded in Phase-II of the project. Moreover, up to 30 blood banks in the hospital will also be renovated and equipped under the grant worth Rs1.1 Billion (10 million Euros).

Published in The Express Tribune, May 4th, 2017.
COMMENTS
Comments are moderated and generally will be posted if they are on-topic and not abusive.
For more information, please see our Comments FAQ